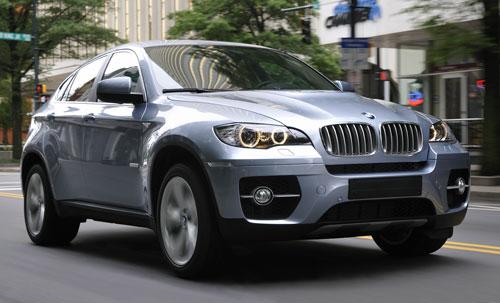 The 2011 model year is the last for the BMW ActiveHybrid, X6 according to BimmerFile.com, a BMW enthusiast website that confirmed the discontinuation with BMW of North America.
The short-lived hybrid, which was launched in 2009, was BMW's first foray into bi-powered propulsion. The full hybrid system in the X6 hybrid produced 480 horsepower and a whopping 575 pounds-feet of torque. It can travel on all-electric power up to 1.6 miles at speeds up to 37 mph — much longer and faster than the Toyota Prius. Gas mileage came in at 17/19 mpg city/highway — an improvement of 3 mpg in the city, but a loss of 1 mpg on the highway compared with the regular V-8 model.
The dual-mode hybrid in the X6 was a shared technology developed by Chrysler, Mercedes-Benz, BMW and GM. As such, a similar system is used in cars like the Chevrolet Tahoe Hybrid, Cadillac Escalade Hybrid and Mercedes ML450 hybrid, among others. None of these hybrids has been a particularly great seller.
Part of the problem may have to do with the hybrid system's emphasis on power over efficiency and price. Case in point: The 2011 BMW X6 ActiveHybrid starts at $88,900. At that price, you're only about $1,000 away from the high-performance BMW X6 M which, according to BimmerFile.com, is what many car shoppers opted for instead of the hybrid.
Exclusive: X6 Active Hybrid Exits US (BimmerFile)