2012 Toyota Prius V, 2012 Prius Plug-in Priced at $26,400 and $32,000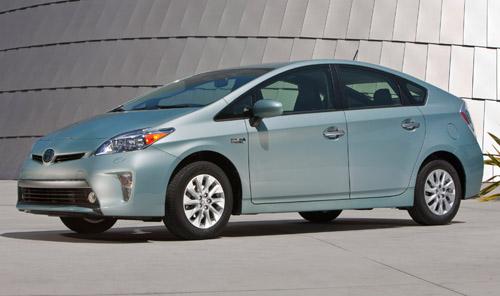 Toyota has priced its 2012 Prius V and 2012 Prius Plug-in at $26,400 and $32,000, respectively, excluding a $760 destination charge.
The Prius V, which will go on sale in October, will come in three trims: Prius V Two, Prius V Three and Prius V Five.
The base Prius V Two costs $26,400 and comes with a 6.1-inch display screen and integrated backup camera, Bluetooth connectivity, USB port, 16-inch alloy wheels and a passive entry system. The Prius V Three adds navigation and Toyota's new Entune multimedia system for $27,165. The Prius V Five adds SofTex upholstery (a leather-like upholstery as durable as cloth, Toyota says), heated front seats, 17-inch alloy wheels, LED headlamps and fog lamps. The Prius V Five starts at $29,990.
Toyota also released final specs and pricing for its 2012 Prius plug-in hybrid. The model, simply called the Prius Plug-in, can drive on electricity alone for up to 15 miles — 2 to 3 miles more than originally reported. All-electric mode will work only at speeds of up to 62 mph; otherwise, the hybrid will get 49 mpg in either city or highway driving. That's a 2-mpg loss for city mileage but a 1-mpg improvement for highway mileage compared with the regular Prius.
The Prius Plug-in weighs only 123 pounds more than the regular Prius — the lithium-ion battery pack weighs 176 pounds — and that's why Toyota said it was able to keep fuel efficiency pretty much the same.
The Prius Plug-in can be fully charged in two-and-a-half to three hours with a 120-volt plug or in 90 minutes with a 240-volt plug – considerably faster than the Chevrolet Volt's 10-hour charging time at 120 volts and four hours at 240 volts, though the Volt gets better EV range at 35 miles. Even when using gas, the Prius Plug-in will rely more on its electric-only capability compared with a regular Prius. Toyota sells a 240-volt home-charging unit for $999.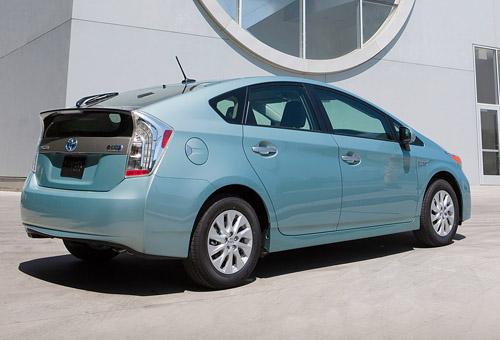 The Prius Plug-in comes in two trims: Base and Advanced. The $32,000 base trim gets you heated seats, passive entry system with push-button start, touch-screen, navigation, backup camera, Entune multimedia system and a remote-controlled air-conditioning system that can precondition the cabin using either grid power or the Prius' battery.
For $39,525, the Advanced trim throws in every tech option Toyota has available, including a head-up display, LED headlamps, SofTex seating, eight-way adjustable power driver's seat, JBL audio, pre-collision warning system, adaptive cruise control and a safety telematics system.
Every Plug-in gets chrome garnishes, LED taillights and blue-accented headlights, all to further distinguish the model from the regular Prius.
Both models are eligible for a $2,500 federal tax credit. Compared with other vehicles that operate on some sort of electricity — the Mitsubishi i ($29,195), Nissan Leaf ($35,200) and the Volt ($39,145) — the Prius slots toward the more affordable end of the plug-in category. Although the Prius Plug-in is larger and has more cargo space than the other three, it can't travel very far on electricity alone.
The Prius Plug-in goes on sale next month in 14 states, including California, New Jersey, New York and Massachusetts. It will be available nationwide in 2013.