Cars.com Launches Free iPad App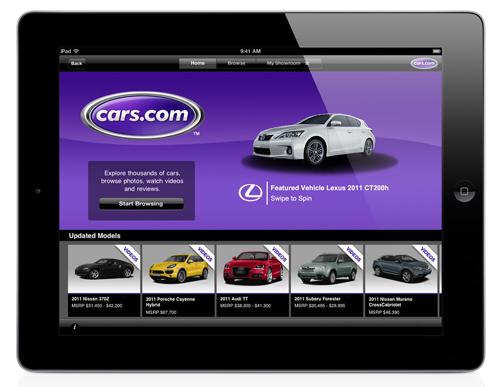 If you're a fan of the iPad and Cars.com, today is a big day for you. Our new iPad app is now available to download via the App Store.
The app is a new-car shopping and research tool that delivers a graphics-rich approach to the hunt for the perfect car.
Features in the app include 360-degree spins of the exterior and interior, new-car videos, our expert reviews and comparison tools. Check out some screenshots and a full list of features below.
Car reviews from the Cars.com team of expert editors
"My Showroom" feature enables users to save vehicles for later review and comparisons
Facebook and Twitter integration lets users post vehicles to social networks
Side-by-side comparison of up to three vehicles
Users who wish to browse Cars.com's vast inventory of new and used vehicles can do so through a link within the Cars.com iPad app or via the Web browser.