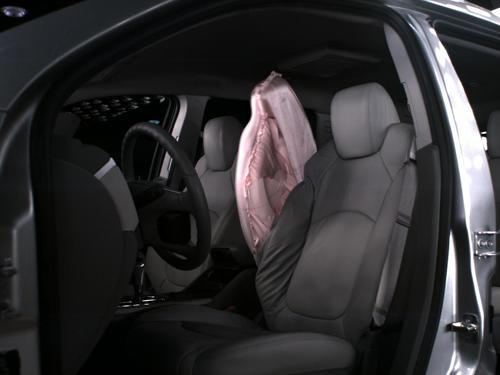 GM will add a front center airbag to its 2013 Chevrolet Traverse, GMC Acadia and Buick Enclave vehicles. This industry-first airbag deploys from the right side of the driver's seat and creates a barrier between the two seats in the front row.
Why create a barrier between the two seats? When far-side collisions — a front occupant is involved in a crash on opposite side of where they're seated — occur, head, chest and spinal injuries can be severe. This happens because far-side occupants are either flung into the other seat or a passenger, if present, causing harm to both occupants, says the National Highway Traffic Safety Administration. Nearly 29% of fatalities for belted front occupants in side-impact non-rollover crashes are caused by these incidents, according to NHTSA.
The front center airbag is designed to restrain the driver and front occupant from colliding with each other or other objects in the cabin, and it acts as an energy-absorbing cushion to absorb the colliding vehicle's reciprocal force.
The airbags will be standard on the 2013 Buick Enclave and standard on GMC Acadia and Chevy Traverse when equipped with power seats. The added airbag would give the large crossovers seven airbags, when equipped. All three crossovers already have top safety accolades from NHTSA and the Insurance Institute for Highway Safety. The center airbag will also help improve roll-over safety, says GM.
Toyota said it's also working on a center airbag, but it hasn't released the safety system on a model yet.
Update: GM has cofirmed that the 2013 crossovers will debut a year from now, in the fall of 2012.