Movers and Losers: August 2011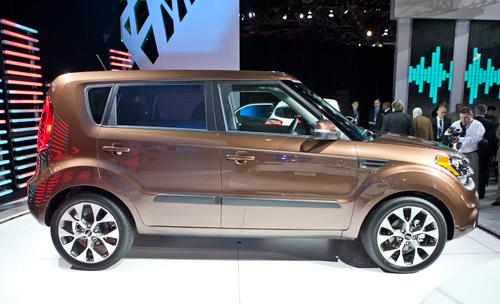 I recently went car shopping, looking for an inexpensive second car to replace an aging station wagon. I knew
the Kia Soul would be the least expensive option for us
, and it can fit two child-safety seats in the back with space to spare. When I went to the local Kia dealer they had exactly one Soul on the lot. It was a 2012 base model with a manual transmission, which luckily was what I was looking for.
My wife and I decided to hold off on the purchase, but the fact that there was one silver-colored car to choose from in a busy suburban Chicago dealership illustrates how tight supply is for affordable new cars. The 2012 Soul tops our Movers list this month, tied with the 2012 Hyundai Elantra sedan, 2012 Nissan Versa sedan and 2012 Toyota Highlander.
Besides the Highlander, those are three of the most-affordable cars a shopper can possibly buy.
There are more expensive vehicles that are moving quickly, but overall, the Movers are affordable options in their respective segments and all are moving in less than 10 days.
At this time of year it's difficult to come up with Losers using our guidelines as most 2012s are now appearing on lots. That has kept the average time a car spends on a new-car lot to 60 days despite many 2011s lingering for more than 200 days and a few close to 400 days.
It's no surprise that Saab, with its uncertain future, has the two top … err, bottom spots on that list. We'd expect the now officially discontinued Mazda RX-8 to have attractive discounts as well.
August Movers
2012 Hyundai Elantra: 5 days
2012 Kia Soul: 5 days
2012 Nissan Versa sedan: 5 days
2012 Toyota Highlander: 5 days
2012 Volkswagen Tiguan: 6 days
2012 Chevrolet Equinox: 7 days
2012 Chevrolet Impala: 7 days
2012 Ford Explorer: 7 days
2012 Hyundai Sonata: 7 days
2012 Jeep Wrangler Unlimited: 7 days
2012 Mini Cooper hardtop: 7 days
2012 Volkswagen Jetta Sportwagen: 7 days
2011 Lexus CT 200h: 8 days
2012 Cadillac SRX: 8 days
2012 Ford Fiesta hatchback: 8 days
2012 Ford Fiesta sedan: 8 days
2012 GMC Terrain: 8 days
2012 Hyundai Accent hatchback: 8 days
2012 Hyundai Elantra Touring: 8 days
2012 Jeep Wrangler: 8 days
2012 Kia Forte sedan: 8 days
2012 Ram 1500 crew cab: 8 days
August Losers
2011 Saab 9-3: 208 Days
2011 Saab 9-5: 207 days
2011 Lexus GS 450h: 207 days
2011 Mercedes-Benz C63 AMG: 202 days
2011 Mazda RX-8: 152 days
2011 Mitsubishi Lancer Sportback: 136 days
2011 Infiniti FX50: 133 days
2011 Honda Ridgeline: 131 days
2011 Suzuki Equator extended cab: 117 days
2011 Mercedes-Benz CL65 AMG: 109 days
August Cars.com Picks
2011 Jaguar XJL: 116 days
2011 Cadillac CTS Sports Wagon: 114 days
2011 Mazda MX-5 Miata: 106 days
2011 Scion xB: 104 days
2011 Lincoln MKT: 100 days
About the Lists
The Movers and Losers list reports the average number of days it takes to sell models from the day they arrive on the lot until the final paperwork is signed by a buyer. This is not a days-of-inventory list like you may find on other websites. We're now focusing on only 2011 and 2012 model years.
For Movers, we only list vehicles that pass a certain threshold of sales in order to weed out limited editions, ultra-high-performance cars and others that might skew the numbers or otherwise inaccurately portray popularity. For Losers, we have removed any threshold to reflect 2011 models that may have the greatest incentives.