Subaru XV at the Frankfurt Motor Show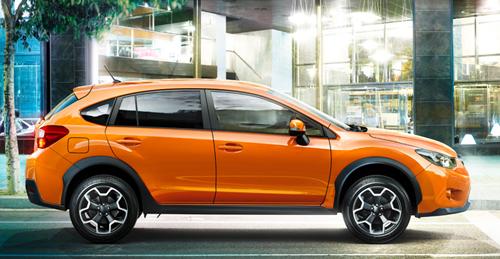 Competes with: Mitsubishi Lancer Sportback, Jeep Patriot
Looks like: A bright orange Impreza
Drivetrain: 2.0-liter four-cylinder engine, continuously variable automatic transmission, all-wheel drive
Hits dealerships: 2012
Subaru has always perplexed us by offering a more capable version of its compact Impreza hatchback and calling it an Outback Sport. The company is addressing the problem with its new XV, which will join the Impreza family next year in the U.S.
The model will feature the same engine and transmission as the new Impreza hatchback that's going on sale later this fall, but it has some differences. The most notable will be the increased ground clearance from 5.7 inches on the regular Impreza hatch to 8.6 inches for the XV. A Subaru Outback has 8.7 inches of ground clearance but a Jeep Wrangler Sport has 8.8 inches, so the XV might be the choice for off-road duties.
Of course, you'd be putting the cool-looking black aluminum wheels at risk. The rest of the car gets some unique bodywork but much less gray cladding than the last Outback Sport. On the XV, the gray cladding looks more attractive, especially around the lower front bumper.
Inside, the XV is similar to the next Impreza with less alteration.
We doubt the XV will be the first choice of Impreza shoppers, but at least it does more to stand out — especially in the orange paint color we see here — than the Outback Sport. Hopefully, fewer car shoppers will be confused by the Subaru models.