2013 Chevrolet Camaro ZL1 Convertible Coming to L.A. Auto Show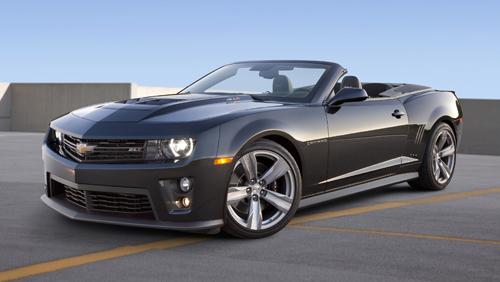 For those seeking the fastest production Camaro but wanting a little wind in their hair while driving it, your miracle machine has arrived. The 2013 Chevrolet Camaro ZL1 convertible's name says it all. It's a convertible variant of the ZL1 trim (first shown at the 2011 Chicago Auto Show), a high-performance Camaro variant that's designed to challenge the Ford Mustang Shelby GT500.
The convertible comes with the same 580-horsepower, 6.2-liter V-8 engine with a six-speed manual transmission that'll be on the coupe. Additional features include structural reinforcements meant to stiffen the convertible and reduce cowl shake/vibration with additional underbody stiffening.
Like the coupe, the convertible will come with a Magnetic Ride Control electronic dampening system and launch control. All of the systems are tied into a GM exclusive Performance Traction Management system, which integrates the dampening system, launch control, traction control and stability control to help boost acceleration performance at launch or in corners.
We can't wait to hear the ZL1 convertible's roar of the dual-mode exhaust system, probably its best attribute. We'll have more information once the 2011 Los Angeles Auto Show gets underway in mid-November. Both coupe and convertible variants of the Chevrolet Camaro ZL1 will launch early in 2012.