Exported From Detroit: Chryslers Headed to Italy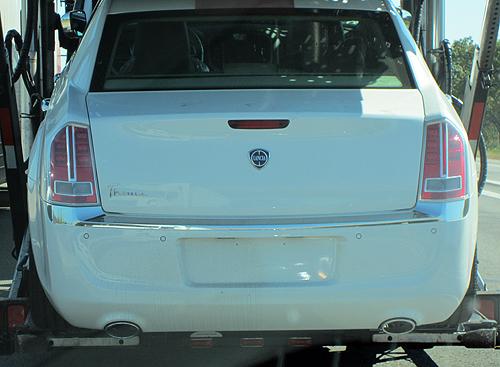 A resurgent Chrysler is seeing robust sales and mostly positive reviews, diluting most negative undertones its recent ownership change to Fiat might have conjured. What might not be so well known is that the cross-Atlantic partnership isn't just bringing Italian cars like the Fiat 500 to the U.S.
The company is repackaging Chrysler and Dodge cars, SUVs and minivans for sale in Europe under the Lancia nameplate.
While Chrysler wants to be seen as a more upscale choice over Dodge in the U.S., that's exactly the position Lancia has in Italy over the Fiat brand, with Alfa Romeo being the top-tier nameplate.
While all this insider talk is interesting, the biggest impact for U.S. consumers is the fact that these cars are being exported to Europe from the U.S. (and Canada), and we caught sight of that process on a recent weekend trip to the East Coast.
A car carrier filled with Chrysler 300 sedans rebadged as Lancia Themas and Chrysler Town & Country minivans rebadged as Voyagers was spied heading east along Interstate 80/90 just east of Fremont, Ohio, by Editor-in-Chief Patrick Olsen.
He said they were plastered with stickers featuring the Canadian Maple Leaf, which makes sense since both vehicles are built at Chrysler plants in Ontario, Canada.
Chrysler told us that these two Lancia models aren't on sale yet and that the European press hasn't even driven them. So we truly caught an early batch headed to sea.

Although these vehicles are not made by U.S. workers, the financial bottom line beefed up by additional sales of these models will certainly have an impact on U.S. operations and profits.
While the sharing of models across borders is viewed positively by Fiat, doing so across brands in the U.S. is a no-no, according to Fiat and Chrysler CEO Sergio Marchionne.
In a recent interview with Automotive News, he stressed the Dodge Grand Caravan would not be sold alongside the Town & Country for the 2013 model year. That reiterates what Marchionne told Cars.com in January at the Detroit auto show regarding the Dodge minivan being replaced by a large three-row crossover akin to the Chrysler Pacifica or Ford's current Flex.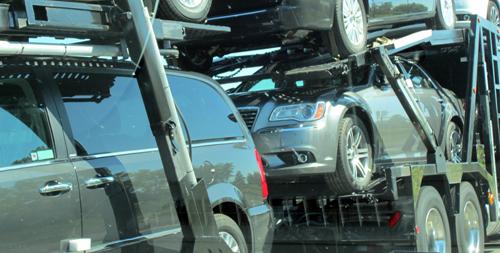 We doubt that the Dodge minivan would be phased out so quickly after a 2011 redesign. We'd expect it to continue its run after the current 2012 model year into 2013.
The midsize Dodge Avenger sedan was also mentioned as being phased out soon, which makes sense to us. This would likely happen in advance of new smaller cars slotted for the Dodge brand in the near term, borrowing technology from Fiat products.
Chrysler has few new product launches in store this year after a massive assault of new cars the past few months, but we'll likely learn more about the company's plans during this year's auto show season.