Mazda Concept Foreshadows Next Sedan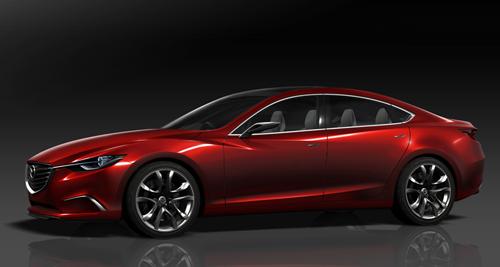 The Takeri concept (shown above and in more photos below) is Mazda's sneak peek at its next midsize sedan. The design style builds off the current Mazda6, especially in terms of the front fender flares, and adds a new style of grille and a sculpted rear that reminds us of recent BMWs.
It's the grille that will likely get the most notice. While it's not the smiley face seen on the Mazda3, it is large and rests under a domed hood, which is similar to the Infiniti M sedans.
Otherwise, the design looks stylish and aggressive but so does the current Mazda6, which didn't sell as strongly as the company or journalists expected.
The Takeri concept will debut at the Tokyo Motor Show in late November and might be on display at Detroit's North American International Auto Show in January.