Top 10 Best-Selling Cars: September 2011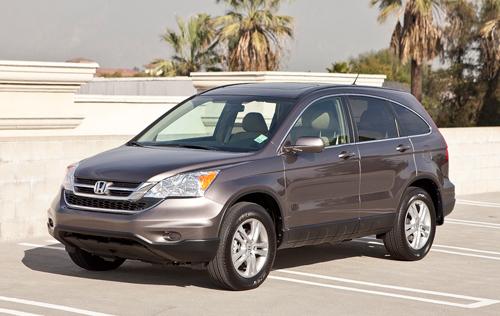 Detroit automakers continued to roll last month, with double-digit sales improvements for Chrysler (up 27.2 percent) and GM (up 19.6 percent) versus September 2010. Still under the shadow of a shuttered Mercury division, Ford sales improved 8.9 percent.
Improved sales across the industry didn't lift Toyota or Honda. Despite predictions of a return to full production following the Japan earthquake in March, both automakers' inventory shortages continued to hurt sales, which were down 17.5 percent at Toyota and 8.0 percent at Honda. Nissan, which didn't see such supply shortages, jumped 25.3 percent in sales.
The result? The monthly best-sellers haven't shifted much.
Nine of them made August's list, and four — the Ford F-150, Chevrolet Silverado, Toyota Camry and Honda Accord — stayed in the same spot. The lone newcomer, Honda's CR-V, hasn't been here since last February. Credit improved sales, up 9.5 percent from September 2010, and stabilized inventory levels. Honda dealers had a steady supply of CR-V crossovers versus a year ago, while the automaker's traditional best-sellers, the Civic and Accord, saw drastic reductions. Unsurprisingly, monthly Accord sales were down 13.8 percent; the Civic fell even farther off the list, with sales off 26.4 percent.
With sales for the redesigned 2012 model trickling in, the Camry maintained its position as America's best-selling sedan. Ahead and behind it, full-size Detroit pickup trucks continued their dominance. Sales for Chrysler's Ram pickups jumped 45.4 percent, and the Chevrolet Silverado climbed 35.8 percent. Ford's venerable F-Series improved 14.7 percent to maintain a comfortable lead. Higher incentives on the Ram brought some shoppers into the showroom, but Ford and Chevrolet didn't throw much additional cash on the hood. Credit higher inventory and more popularity for the F-150's six-cylinder engines, including the EcoBoost 3.5-liter, Ford says.
Automakers say autumn represents a traditional uptick in pickup and SUV sales. Stabilizing gas prices, which are down about 50 cents a gallon for regular unleaded since spring, have brought even more shoppers into the fray.
"Our full-size utilities were up about 56 percent," GM Sales Vice President Don Johnson told reporters in a conference call. "With gas prices stabilizing, with at least some stability in consumer confidence, we weren't totally surprised to see [that]. … At this time of the year, collectively the industry tends to advertise trucks more. We and our competitors are in football and in Major League Baseball."
Ford sales analyst Erich Merkle called September "a strong truck month; there is a lot of merchandizing that happens around the pickup truck."
Even Toyota division general manager Bob Carter said there were "encouraging signs in the pickup truck market." The brand's Tundra pickup saw stable sales amid falling numbers across the rest of Toyota; it didn't make the list, however.
Elsewhere, rising sales brought the Ford Fusion (up 22.6 percent) and Escape (up 41.3 percent) up two spots each. Neither model has huge incentives versus September 2010, despite the current-generation Escape nearing the end of its life. The same goes for the Altima, up 21.7 percent. Incentives crept up for Nissan's best-selling model but not by a huge margin.
The Chevrolet Cruze, whose monthly sales broke 20,000 all summer long, dropped to 18,097 in September, knocking it off the top 10 list. Johnson defended the decline, telling reporters seasonally adjusted sales rates were "basically bang-on with what we did in August and July."
Falling sales (down 11.9 percent) brought Hyundai's best-selling Sonata sedan, which ranked seventh in August, to 10th place for September. Over the full month, GM, Ford and Chrysler remain America's best-selling automakers, with Toyota and Nissan following. That's no change from last month's order.
See the sales table below. Inventory and incentive data are courtesy of Automotive News.