UAW and Detroit Three Agreements Bring Jobs, Cars to U.S.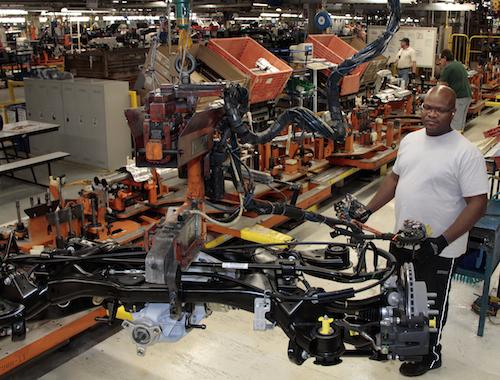 The United Auto Workers and Chrysler reached a new four-year contract today, capping Detroit Three negotiations that included ratification with GM on Sept. 28 and vote-pending ratification with Ford, which union officials expect by Monday.
The contract agreements should add to the UAW's Detroit Three ranks — currently at 112,000, a fraction of its membership in the 1970s and '80s — with jobs and cars returning to the U.S. Despite ruffled feathers at Chrysler when the UAW bumped Ford ahead in its negotiations, the process wrapped up in orderly fashion, with little apparent strife.
The agreements should create more than 14,000 new jobs: 2,100 at Chrysler, 5,750 at Ford and 6,400 at GM, the UAW says. Those are proportionate additions to current GM and Ford ranks, with a smaller addition to Fiat-owned Chrysler. The three automakers will invest more than $13 billion in U.S. salaries and infrastructure over the next four years, with a handful of future models locked in. Rather than getting hourly raises, UAW employees at all three companies will receive signing bonuses and profit-sharing programs, an important step for Detroit carmakers to keep labor costs down. Entry-level workers will get an hourly raise.
The agreements bring manufacturing jobs back to the U.S.
Ford will bring production of its next-generation Fusion to Flat Rock, Mich., where the Mustang and Mazda6 are currently built. Ford builds today's Fusion in Mexico, a country where autoworkers average just $3.75 an hour compared with an average of $33.46 in America, IHS Automotive reports. That could put the popular Fusion in contention for Cars.com's
American Made Index
if Ford builds enough of them here. The UAW contract names Flat Rock as a "second source" of Fusion production, meaning some production could remain south of the border.
Other insourcing includes the Transit Connect cargo van, which Ford will build in Kansas City, Mo. Currently, all Transits bought here are built in Turkey. The UAW deal also slates the C-Max hybrid, next-generation Escape crossover and next-gen Mustang for U.S. production.
GM, meanwhile, will reopen its Spring Hill, Tenn., plant — made famous in Saturn commercials — to build two midsize vehicles. The redesigned Chevrolet Colorado pickup will stay here, possibly at GM's Wentzville, Mo., plant. The next-gen Chevrolet Silverado and GMC Sierra will retain production in Fort Wayne, Ind.
The product fruits of Chrysler's contract remain unclear, but Automotive News reports the U.S. could see production of two Alfa Romeo vehicles in Chrysler plants in Toledo, Ohio, and Sterling Heights, Mich. As reported before, a new Dodge compact will come out of Chrysler's plant in Belvidere, Ill.