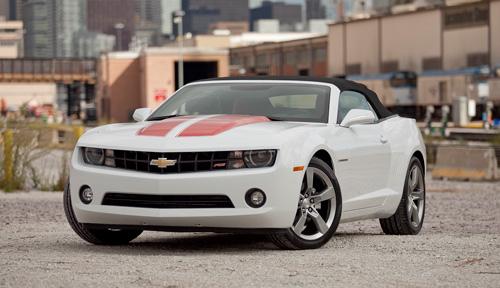 This Car Seat Check was first published in May 2011 on MotherProof.com.
Chevy is ready for summer with its 2011 Camaro convertible, which hit dealerships this spring. The Camaro convertible features a power soft-top that lowers in 20 seconds. In the second row, the Camaro has just two seats with aggressive seat bolsters.
For the Car Seat Check, we use a Graco SnugRide 30 rear-facing infant-safety seat, a Britax Roundabout convertible child-safety seat and Graco high-back TurboBooster seat.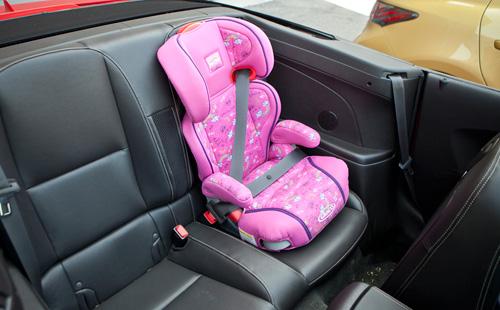 The front seats are adjusted to a comfortable position for a 6-foot driver and a 5-foot-8 passenger. The three child seats are installed in the second row. The booster seat sits behind the driver's seat, and the infant seat and convertible seats are installed behind the passenger seat. We also install the infant seat in the second row's middle seat with the booster and convertible in the outboard seats to see if three car seats will fit. If there's a third row, we install the booster seat and a forward-facing convertible.
Here's how the 2011 Chevy Camaro convertible did in MotherProof.com's Car Seat Check:
Latch system: The Camaro convertible has two sets of lower Latch anchors that are found in slits in the leather seats. The anchors are easy to find, but a challenge to use because the seats are narrow, pushing the anchors really close together. Like many convertibles, the Camaro convertible doesn't have any tether anchors.
Booster seat: The bolstered rear seats made it tough to fit our high-back booster seat in the second row. The side bolsters made the seating area so narrow that the booster sat in front of the seat belt buckle. Once we wedged the booster seat into the seat, it sat askew and the buckle sat so close to the booster base that it was difficult to buckle up. We had to jam the seat belt into the buckle. This would be nearly impossible for a child to do.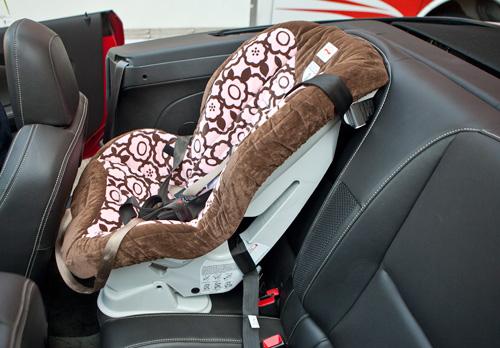 Convertible seat: The Camaro convertible doesn't have any rear head restraints, which allowed our forward-facing convertible to fit well in the backseat. However, legroom is practically nonexistent. The rear-facing convertible didn't fit in the Camaro convertible. Even with the front passenger seat moved all the way forward, there wasn't enough room.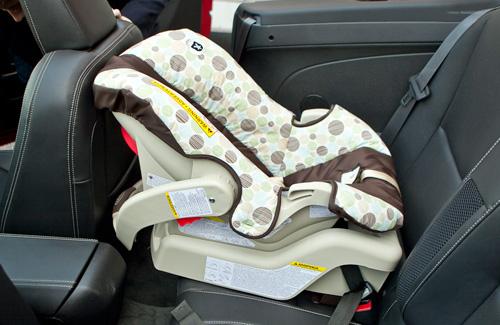 Infant-safety seat: There also wasn't enough room for this rear-facing car seat.
How many car seats fit in the second row? Two, but only if they're forward-facing.
Editor's note: For three car seats — infant-safety seat, convertible and booster seats — to fit in a car, our criterion is that a child sitting in the booster seat must be able to reach the seat belt buckle. Parents should also remember that they can use the Latch system or a seat belt to install a car seat.