2011 Hyundai Sonata: Car Seat Check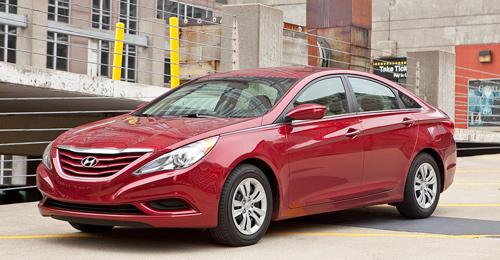 This Car Seat Check was first published in October 2010 on MotherProof.com.
The winner of Cars.com's $25,000 Family Sedan Shootout, the 2011 Hyundai Sonata doesn't hold up quite as well when we focused only on the car's Latch system. However, the midsize sedan's spacious second row easily won over our car-seat testers.
For the Car Seat Check, we use a rear-facing infant-safety seat, a convertible child-safety seat and a high-back booster seat, all made by Graco. The front seats are adjusted to a comfortable position for a 6-foot driver and a 5-foot-8 passenger. The child seats are installed in the second row and, if available, third row. The booster seat sits behind the driver's seat, and the infant seat and convertible seats are installed behind the passenger seat.
Here's how the 2011 Sonata scored in MotherProof.com's Car Seat Check:
Latch system: It's hard to get to the Sonata's two sets of lower Latch anchors because they're buried under stiff seat cushions. The three easy-to-use tether anchors sit under hinged covers on the shelf behind the head restraints.
Booster seat: The high-back booster fit well in the bench seat, and the head restraints didn't interfere with the seat positioning. The seat belt buckles are floppy, and a booster seat can slide over them rather easily. Nothing frustrates my 7-year-old in the car as much as when his booster seat has slid on top of the seat belt buckle and he can't buckle up without any help from me or my husband.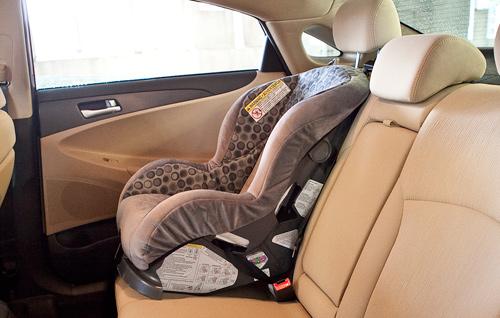 Convertible child-safety seat: Those stiff seat cushions made installing any car seat a chore. It took awhile to get the forward-facing convertible installed. Once I did, the seat fit well in the backseat. There was plenty of room for the rear-facing convertible, and I didn't have to move the front passenger seat forward to get it to fit.
Rear-facing infant-safety seat: This car seat also fit easily in the Sonata's backseat.
Do two car seats fit? Yes
Do three car seats fit? No