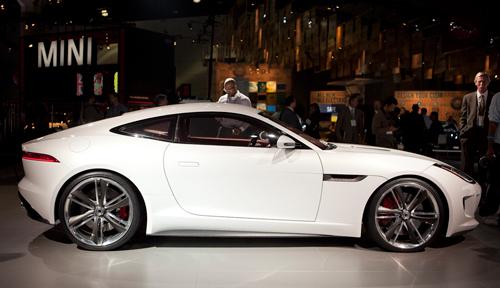 The art of the concept car has been stymied for the past few years with economic turmoil facing the industry. But these future visions on four wheels are back in a big way this auto show season with some stunners making their mark in Los Angeles. Editors Joe Wiesenfelder, David Thomas, Kelsey Mays and Mike Hanley judge these visions and render swift verdicts of what makes them stand apart or stand out like a sore thumb.
Also read our thoughts on the production vehicles that debuted
.
Jaguar C-X16 (above)
Joe Wiesenfelder: Winner
Two reasons this is a winner: It looks fantastic, as any good sport concept does. Also, it's a hybrid. That alone doesn't make it a winner, but the fact that it comes from a brand that never forgets the driving experience is promising. If hybrid tech is to proliferate, it must become more satisfying to drive.
Mike Hanley: Winner
When your sports car looks better than an Aston Martin V8 Vantage, you know you've done well. The C-X16's proportions are just right, and it's infused with aggressive design cues befitting a cutting-edge coupe. Jaguar makes some great-looking sports cars, and this concept continues that trend.
Kelsey Mays: Winner
The C-X16 is a looker, especially in back. I like the departure from the XJ's teardrop taillights to more of a slash. Hybrid sports cars are few, and execution is all over the board. Jaguar has the pedigree to lift this tide.
David Thomas: Winner
Hybrids? You're talking about hybrids? Fellas, drop one of Jag's terrific V-8s under the hood and this thing will be my dream car. It was not only the most stunning concept car in L.A.; it's the most stunning car I've seen in years.
Kia GT
JW: Winner
What would an auto show be without a couple of cars you can stare at for minutes on end, attempting in vain to suppress drool? The GT is definitely drool-worthy. As for the concept behind this concept, it makes perfect sense for Kia to move into the sport segment.
MH: Loser
For a brand that resents people lumping it with Hyundai, Kia's GT concept sure takes some big design cues from Hyundai production cars; the front-end styling recalls the Veloster. Beyond that, I don't like the tail, which stretches out beyond the rear wheels.
KM: Loser
I'm one of the few who don't like the Audi A7's chopped tail, and the GT apes that. I like that the brand is exploring rear-wheel drive, but the concept didn't do it for me.
DT: Winner
As Kelsey pointed out, this could be Kia's attempt at Audi's A7. Since so much of Kia's design apes Audi anyway, why not take the sexiest of the bunch for your next sport sedan? I think they call that "win win." Kelsey clearly doesn't get it.
Land Rover DC100 and DC100 Sport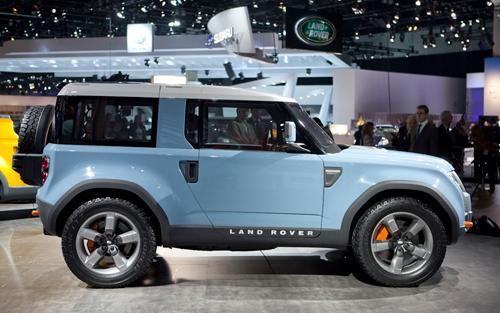 JW: Losers
Are these really from the same company as the Evoque? The Defender was and always should be a military-style vehicle, not a cartoon like the Toyota FJ Cruiser. Anyone with the gall to drive a Defender in this climate (pun intended) is happy to go all the way. Send these back to Britain.
MH: Winners
The Defender is far removed from what Land Rover represents in the U.S. today, but I nonetheless like the result of the brand's effort to envision what a modern Defender could be. Bonus points for hardtop and canvas-roof versions.
KM: Winners
Yes, the styling is too toylike to take seriously, but the DCs could signal a return to Land Rover's roots. Capability notwithstanding, I doubt many Range Rover drivers take theirs off-road.
DT: Losers
I actually had family members asking me about this new Defender. They were anticipating it being the inheritor to the horribly unreliable but much-loved SUV we haven't had in the States for years. They were not asking about an FJ Cruiser-esque off-road specific two-door. They wanted a big, boxy SUV with four doors and slightly less horrible, maybe, reliability. They're not going to get it.
Subaru BRZ-STI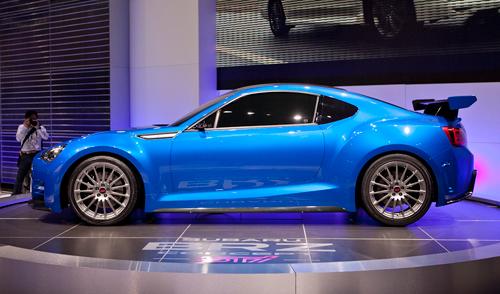 JW: Winner
Here's another drool-inducer. I'm not sure if it says "Subaru" enough -- especially since the car will be shared with Toyota, and it will be more important than usual for it to bear a family resemblance -- beyond the big STI-style wing, which I could live without.
MH: Winner
There's a lot to like here -- even when you mentally remove some of the car's more extravagant bits, like the giant wing spoiler. It just goes to show what a rear-drive layout can do for a car's styling, let alone its performance. Kudos to Subaru for breaking its own mold with this car.
KM: Winner
You can see some Scion FR-S in the BRZ, along with some Mazda RX-8 in its rear flanks. All good things. Subaru is a brand built on functionality, and styling sometimes takes a backseat. It's nice to see the potential for change.
DT: Loser
Sorry fellas, I just can't get over that profile and the oddly shaped roofline. It just looks too pedestrian while everything else screams modern sports car. I'll just wait for the next Impreza STI over here in the corner for a few more auto shows.
Volkswagen Beetle R Concept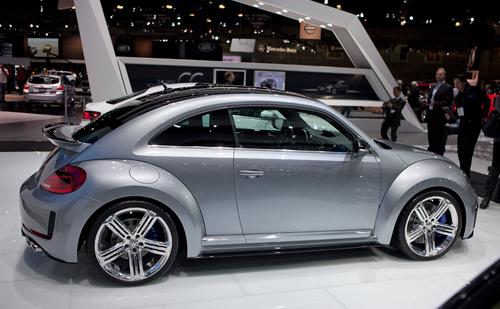 JW: Loser
The Beetle Turbo is fun to drive, and I have no reason to believe this one wouldn't be better still. But all the additional vents and other aggressive elements make the Beetle look like an effeminate guy who's overcompensating and trying too hard. It's a little sad.
MH: Loser
It took the redesign of the Beetle to make something like the Beetle R Concept seem plausible, though just barely. The bottom line is that I don't see anyone clamoring for a high-performance Beetle, which makes you wonder why Volkswagen bothered.
KM: Loser
This just looks like an accessorized Beetle: hood vents, LEDs strung like Christmas lights, wheels so bright they look like they belong on a toy car. Yuck.
DT: Loser
VW, all I want for Christmas is a Scirocco. This is the equivalent to coal in my stocking. No milk and cookies for you.
Cadillac Ciel
MH: Winner
The Ciel didn't debut in L.A., but it's easily one of the stars of the show. It's an immense convertible that pays homage to Eldorados of old while simultaneously testing the boundaries of Cadillac's design language. It makes as much of a statement as the memorable Cadillac Sixteen concept.
DT: Winner
It has an insanely long profile that reminds me of a boat, but every other angle is mystifyingly beautiful. This will turn heads for the next two weeks without a doubt.