2011 Toyota RAV4: Car Seat Check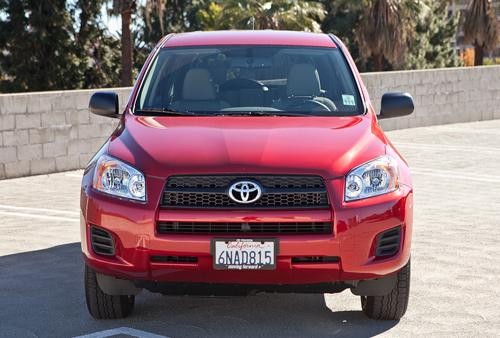 This Car Seat Check was first published in February 2011 on MotherProof.com.
The 2011 Toyota RAV4 is a midsize SUV with standard seating for five. It also can be had with an optional third row that increases seating to seven. For our Car Seat Check, we tested a RAV4 with two rows of seats. The backseat reclines and slides back and forth.
For the Car Seat Check, we use a Cosco rear-facing infant-safety seat, a Graco convertible child-safety seat and Graco high-back booster seat. The front seats are adjusted to a comfortable position for a 6-foot driver and a 5-foot-8 passenger. The child seats are installed in the second row and, if available, third row. The booster seat sits behind the driver's seat, and the infant seat and convertible seats are installed behind the passenger seat.
Here's how the 2011 RAV4 scored in MotherProof.com's Car Seat Check:
Latch system: The RAV4's two sets of lower Latch anchors are in the outboard seats. The anchors are buried under the cushions, but we could reach them without too many problems because the cushions could be easily moved out of the way. The three tether anchors sit so low in the seatbacks that they're obstructed by the cargo floor. To use these tethers, we needed to slide the second-row seat forward to connect the tether. The middle seat's tether anchor sits in the cargo area's roof.
Booster seat: This car seat fit well in the backseat after we reclined the seatback a bit and removed the head restraint. The seat belt buckles are problematic, though. They sit in wells in the bottom seat cushions, and an elastic strap holds them in place. This setup makes it difficult for a child to buckle up independently, and the wells make it easy for the booster seat to slide over the buckle, which is frustrating for kids and parents.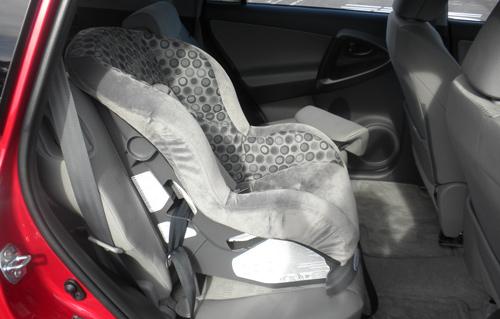 Convertible child-safety seat: The backseat's flat bottom cushion makes it easy to securely install a forward-facing convertible seat. There also was just enough room for the rear-facing convertible car seat to fit in the second row.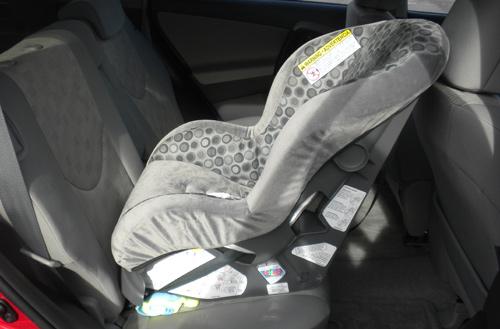 Rear-facing infant-safety seat: This car seat also fits well.
Do three car seats fit? Not in the five-passenger RAV4.