2012 Dodge Charger: Car Seat Check
This Car Seat Check was originally published in September 2011 on MotherProof.com.
If you're looking for a muscle car with room for a family, consider the 2012 Dodge Charger. This full-size sedan offers seating for five and three sets of lower Latch anchors. The Charger's optional V-8 engine will have parents volunteering to drive carpool.
For the Car Seat Check, we use a Graco SnugRide 30 rear-facing infant-safety seat, a Britax Roundabout convertible child-safety seat and Graco high-back TurboBooster seat.
The front seats are adjusted to a comfortable position for a 6-foot driver and a 5-foot-8 passenger. The three child seats are installed in the second row. The booster seat sits behind the driver's seat, and the infant seat and convertible seats are installed behind the passenger seat. We also install the infant seat in the second row's middle seat with the booster and convertible in the outboard seats to see if three car seats will fit. If there's a third row, we install the booster seat and a forward-facing convertible.
Here's how the 2012 Charger did in MotherProof.com's Car Seat Check:
Latch system: We found the three sets of lower Latch anchors to be difficult to use because of the stiff seat cushions surrounding them. The anchors are also buried in the seat bight, where the back and bottom cushions meet. Three tether anchors are found in the rear shelf behind the head restraints. They sit under hinged plastic covers and are easy to use.
Booster seat: Our high-back booster seat fit well in the Charger, but the outboard seats' fixed head restraints could cause problems for larger booster seats. The seat bolsters aren't large enough to interfere with the booster's fit. The seat belt buckles are anchored in the bottom seat cushions, but it's too recessed for kids to use easily.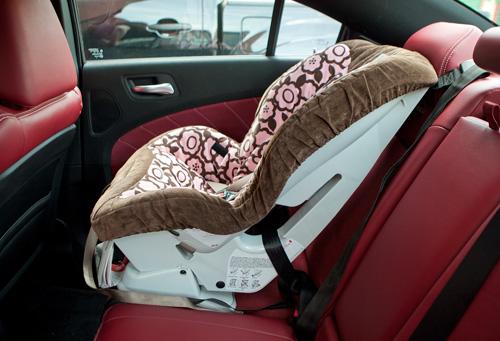 Convertible seat: We struggled to install the convertible with its rigid Latch connectors because the stiff seat cushions blocked the path to the Latch anchors. Once we fought past the cushions, the forward-facing convertible fit well. There's plenty of room for the rear-facing convertible, too.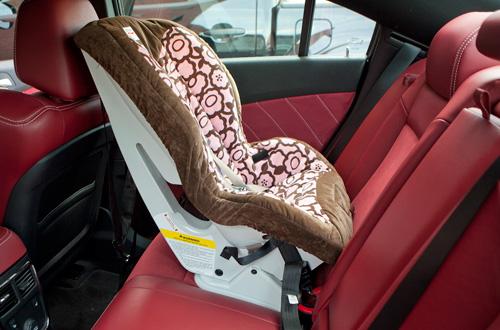 Infant-safety seat: This rear-facing car seat fit well. There was no need to move the front passenger seat forward to fit it.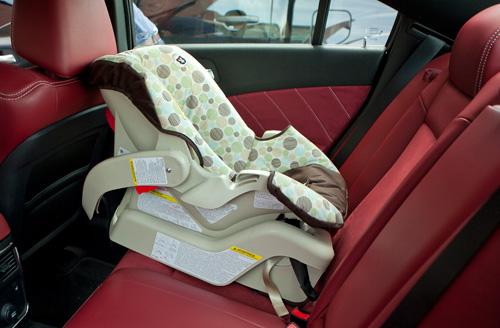 How many car seats fit in the second row? Two
Editor's note: For three car seats — infant-safety seat, convertible and booster seats — to fit in a car, our criterion is that a child sitting in the booster seat must be able to reach the seat belt buckle. Parents should also remember that they can use the Latch system or a seat belt to install a car seat.