2012 Ford Explorer: Car Seat Check
The popular Ford Explorer remains mostly the same for 2012. It does get a new four-cylinder EcoBoost engine that delivers V-6 power. On the inside, the crossover's interior remains unchanged from 2011, with three rows of seats standard. The Explorer can haul seven passengers, but seating drops to six if the standard second-row bench is replaced with two captain's chairs. We tested a seven-seat Explorer. Find out how the 2012 Explorer performed in
Cars.com's $37,000 SUV Shootout
.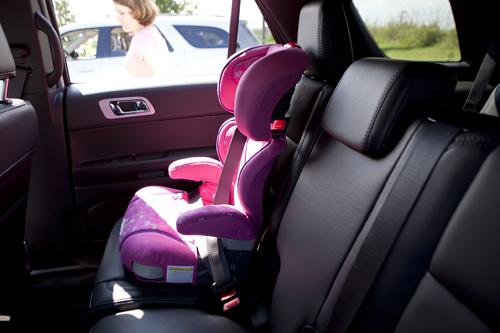 For the Car Seat Check, we use a Graco SnugRide 30 rear-facing infant-safety seat, a Britax Roundabout convertible child-safety seat and Graco high-back TurboBooster seat. The front seats are adjusted to a comfortable position for a 6-foot driver and a 5-foot-8 passenger. The three child seats are installed in the second row. The booster seat sits behind the driver's seat, and the infant seat and convertible seats are installed behind the passenger seat. We also install the infant seat in the second row's middle seat with the booster and convertible in the outboard seats to see if three car seats will fit. If there's a third row, we install the booster seat and a forward-facing convertible.

Here's how the 2012 Explorer did in our Cars.com Family Car Seat Check:

Latch system: There are three sets of lower Latch anchors in the Explorer, with two sets in the second row's outboard seats. The third set is in the third row. The anchors in both rows are easy to use, but we did run into problems with the second row's inboard anchor on the passenger side that's obstructed by plastic plates in the seat cushions.

The Explorer has three easy-to-use tethers at the base of the second row's seatbacks that are easy to use. In the third row, the tether anchor is found on the passenger-side seatback.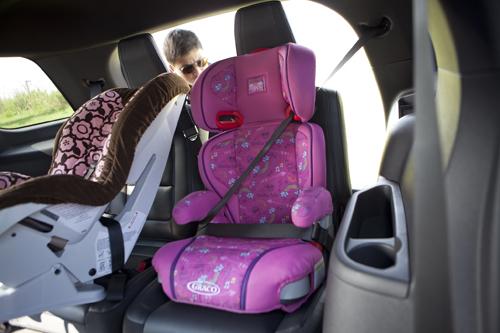 Booster seat: In both rows, the booster seat fits well. In the second row, the seat belt buckle behind the driver's seat is floppy, which could be difficult for a child to use independently. The second row's other buckles sit on stable bases. In the third row, the buckles also are on fixed bases that will be easy for kids to use. However, the third row doesn't have a lot of legroom, which could be problematic for taller kids in boosters.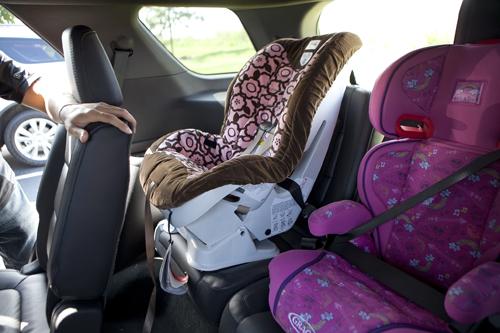 Convertible seat: Our forward-facing convertible fit well in the second and third rows. To fit the rear-facing convertible in the second row, we had to move the front passenger seat forward an inch or two. The second-row seats don't move forward or back, but they do recline. This left the front passenger with enough legroom, but he or she might get uncomfortable on longer trips.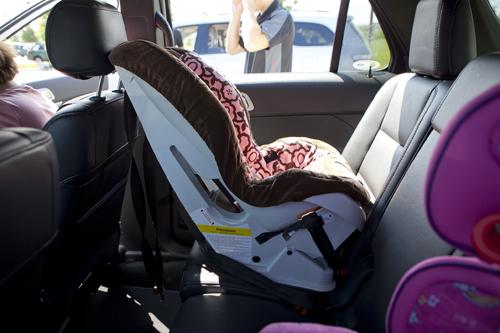 Infant-safety seat: This rear-facing car seat fits well in the second row, with no need to move the front passenger seat forward.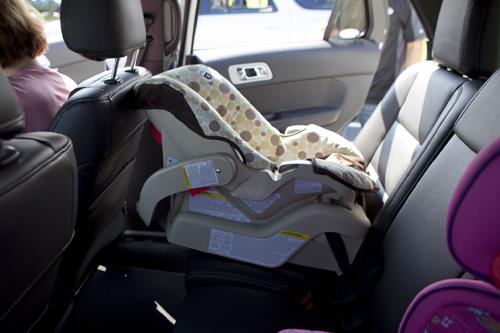 How many car seats fit in the second row? Two

How many car seats fit in third row? Two

Editor's note: For three car seats — infant-safety seat, convertible and booster seats — to fit in a car, our criterion is that a child sitting in the booster seat must be able to reach the seat belt buckle. Parents should also remember that they can use the Latch system or a seat belt to install a car seat.