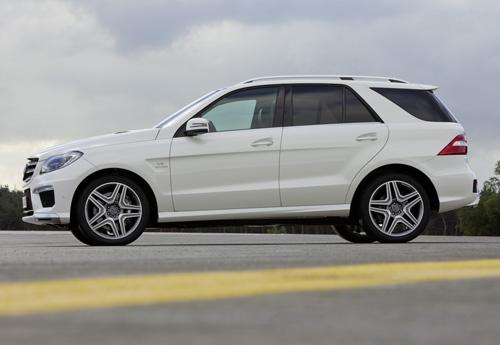 Competes with: BMW X5 M, Infiniti FX50
Looks like: A more efficient but less aggressive-looking AMG
Drivetrain: 518-hp or 550-hp twin-turbo V-8; seven-speed automatic transmission
Hits dealerships: Early 2012
When Mercedes-Benz unveiled an all-new M-Class this summer — in V-6 and diesel formats — we were sure that many more trims would come soon, including a high-performance AMG trim. Staying true to form, the automaker will introduce the 2012 Mercedes-Benz ML63 AMG at the 2011 L.A. Auto Show — the glitzy metropolis is surely one of the most important markets for the model.
More 2011 L.A. Auto Show Coverage
Mercedes emphasized safety, fuel economy and feature content on the redesigned M-Class model, most of which is to the benefit of the 2012 ML63 AMG.
The new 5.5-liter twin-turbo V-8 engine will achieve a rating of 16 mpg combined, which is 4 mpg better than the 2011 ML63 AMG. The engine will also make more horsepower, at 518 hp and 516 pounds-feet of torque, up 15 hp and 51 pounds-feet over last year's model. The new AMG can accelerate from zero to 60 mph in 4.7 seconds with a top speed of 155 mph.
Part of the improved fuel economy comes from the introduction of a start-stop system. Owners who want to hear and feel the rumble of the V-8 at idle can disable the feature by setting the automatic transmission to Sport and/or Manual mode. Only the Controlled Efficiency mode will activate start-stop. The AMG Performance Package can boost horsepower to 550 hp, and it improves the zero-to-60 time to 4.6 seconds with a top speed of 174 mph. Fuel economy remains unchanged on the model. Like all current 2012 M-Class trims, the ML63 features a permanent all-wheel-drive system.
The ML63 will also have a new standard air suspension system with automatic leveling. The suspension also features a new active roll stabilization program that helps in corners or with emergency maneuvers.
Exterior updates include standard 20-inch wheels, an AMG ground effects kit, quad chrome tailpipes and bi-xenon headlights with automatic high-beam assist.
Interior updates include an AMG-specific sport steering wheel, aluminum trim and leather-trimmed dashboard. The front seats are ventilated and include active multicontour bolsters.
The 2012 ML63 AMG will go on sale within the first three months of 2012.