2012 Nissan Versa Sedan: Car Seat Check
With a starting price of $10,990, the 2012 Nissan Versa sedan is the most affordable new car on the market. Its low price point could have parents eyeing it for their teen drivers, but it can work for families with kids in child-safety seats. The five-seat sedan was redesigned for 2012, and it has ample room in the backseat, but installation wasn't trouble-free. Research the 2012 Versa here.

For the Car Seat Check, we use a Graco SnugRide 30 rear-facing infant-safety seat, a Britax Roundabout convertible child-safety seat and Graco high-back TurboBooster seat.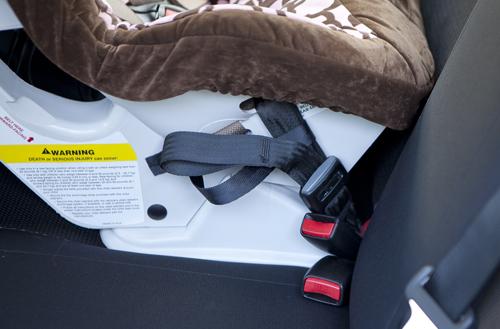 The front seats are adjusted to a comfortable position for a 6-foot driver and a 5-foot-8 passenger. The three child seats are installed in the second row. The booster seat sits behind the driver's seat, and the infant seat and convertible seats are installed behind the passenger seat. We also install the infant seat in the second row's middle seat with the booster and convertible in the outboard seats to see if three car seats will fit. If there's a third row, we install the booster seat and a forward-facing convertible.

Here's how the 2012 Versa did in Cars.com's Car Seat Check:

Latch system: There are two sets of lower Latch anchors in the Versa's outboard rear seats. It's difficult to use the anchors because the Versa's stiff seat cushions get in the way. There are three tether anchors under hinged plastic covers on the rear shelf behind the backseat's head restraints. It was a struggle to open the plastic covers. I accidentally pulled out the plastic housing when trying to open the tether cover. Whoops! It was easy to put it back in place, though.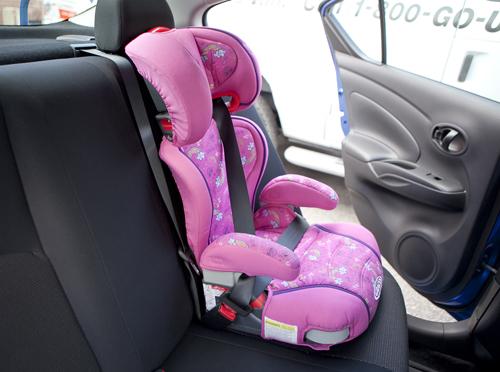 Booster seat: The booster seat fits well in the Versa's backseat. The seat belt buckles, however, are floppy, and the booster tends to ride over them. These buckles make it difficult for kids in boosters to buckle up independently.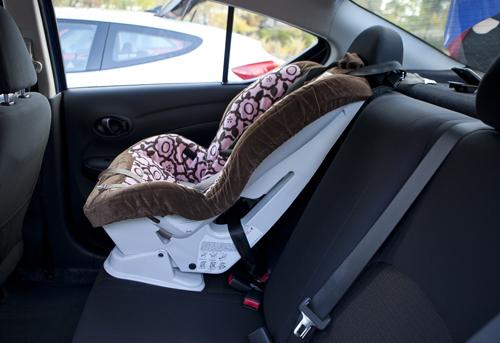 Convertible seat: Both the forward- and rear-facing convertible fit well in the Versa. There's so much legroom in the second row that we didn't have to move the front passenger seat forward to accommodate the rear convertible.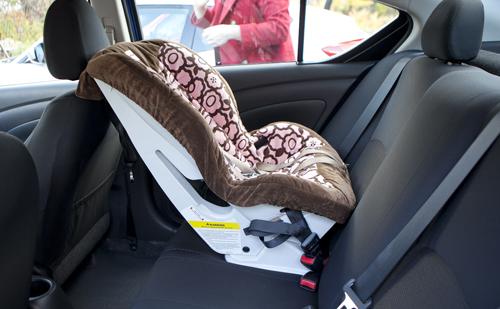 Infant-safety seat: This rear-facing car seat also fits easily into the Versa sedan.


How many car seats fit in the second row? Two

Editor's note: For three car seats — infant-safety seat, convertible and booster seats — to fit in a car, our criterion is that a child sitting in the booster seat must be able to reach the seat belt buckle. Parents should also remember that they can use the Latch system or a seat belt to install a car seat.