2013 Honda Fit EV: Up Close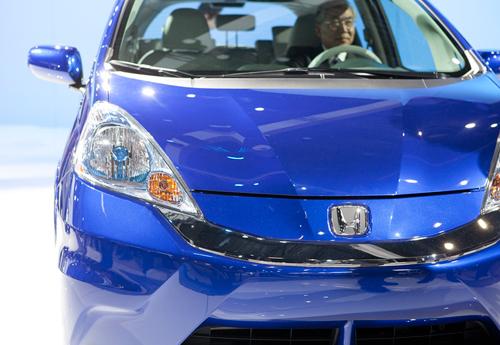 The Honda Fit EV is based on the gas-powered Fit, but styling changes give the all-electric hatchback a distinctive appearance. It starts up front, where the regular Fit's grille has been swapped for a solid panel and a chrome bar that gives the car a bit of a grin. Changes to the rear include a hood-like spoiler that's quite a bit larger than the one on the Fit Sport — it's aerodynamic, Honda says — and sharp corners on the sides of the bumper like those on the Toyota Prius.
More 2011 L.A. Auto Show Coverage
The transformation into an electric car has consequences in the cabin, as the Fit EV loses one of the gas model's signature features: the Magic Seat second row.
That seat folds flat with the cargo floor or flips up like the backseat in an extended-cab pickup truck. In the Fit EV, the lithium-ion battery pack is under the front and rear seats, and instead of the Magic Seat there's just a traditional folding backseat that doesn't fold flat with the cargo floor. The spacious cargo area is one of the Fit's standout attributes.
The cockpit is familiar, but there's a new instrument cluster with a digital speedometer centered between a power/charge indicator and a battery gauge in the style of a traditional gas gauge. Choosing between Normal, Sport and Econ modes changes the digital screen's accent color in addition to the driving characteristics.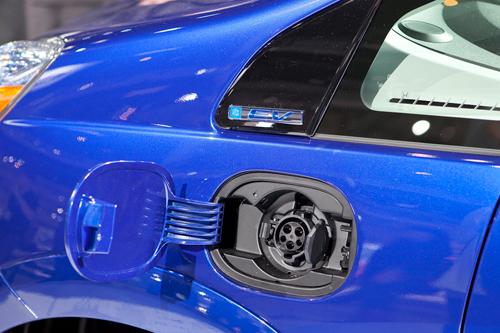 Despite the loss of versatility, it's good to see another competitor for the Nissan Leaf. Plus, the Fit EV's ability to charge rapidly — Honda says it can recharge in as little as three hours using a 240-volt charging system — chips away at one of the key stumbling blocks to the widespread acceptance of electric cars.