2013 Mazda CX-5 at the 2011 L.A. Auto Show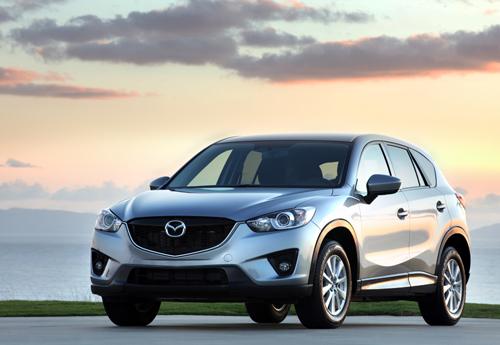 Competes with: Honda CR-V, Ford Escape, Kia Sportage
Looks like: No smile makes us happy
Drivetrain: 155-hp, 2.0-liter four-cylinder, six-speed manual or automatic transmission, front- or all-wheel drive
Hits dealerships: Early 2012
If there's one trend about the L.A. Auto Show this year, it's the small crossover making a big push to the forefront of the industry. Ford's new Escape and Honda's new CR-V have to share the stage with Mazda's CX-5. And Mazda thinks the CX-5 is the hit it needs.
More 2011 L.A. Auto Show Coverage
The aggressive styling and upscale interior Mazda is known for fall behind the technology under the hood. The CX-5 looks to be the most efficient compact crossover on the market.
It will be hard to judge how the CX-5 will perform in terms of Zoom-Zoom-iness, but the 155-hp, 2.0-liter four-cylinder engine gets direct injection to achieve 26/32 mpg city/highway for front-wheel-drive models with a six-speed automatic transmission. Opt for a six-speed manual transmission, and the highway number ticks up to 33 mpg.
The all-wheel-drive model's 25/30 mpg ratings top the class, including the newest versions of the CR-V and Escape. However, the CX-5 makes less horsepower, so we wonder if Mazda is sacrificing too much performance for the mileage gains.
The CX-5 is sized similarly to the CR-V in terms of overall length, passenger volume and cargo volume, and that says a lot in terms of where Mazda is taking aim.
Inside, the CX-5 is similar in theme and design to the current lineup leaning toward the cockpit of a sports car. There is a 5.8-inch touch-screen in the center of the dash along with Bluetooth connectivity and USB connectors, but Mazda hasn't detailed if it is standard equipment or not. A Bose upgraded stereo and navigation systems will be available options.
The CX-5 is an impressive entry into the segment with style and practicality at the forefront. That seems to be the way to car shoppers' hearts these days.
Clicking on any image below will launch a larger photo gallery; you can browse through them by hitting the right and left arrow keys.