2013 Toyota Prius C Production Model Heading to 2012 Detroit Auto Show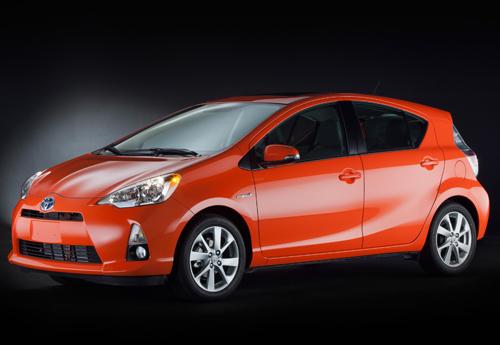 Toyota gave us our first glimpse at its ready-to-sell baby Prius, dubbed the 2013 Toyota Prius c, today. The first photos and some basic technical info showed up unceremoniously early on the company's website.
The hybrid model won't show up at the L.A. Auto Show. Rather, it will debut at the 2012 Detroit auto show, a full year after the Prius c concept was shown off to the public at the Motor City.
The Prius c — the C stands for "city" — is a subcompact car that's much smaller than the Prius and Prius V, with a total length of about 157 inches, Toyota says. It's just slightly larger than a four-door Toyota Yaris. The model is expected to get the highest city gas-mileage rating of any non-plug-in hybrid model on the road today, doing better than 50 mpg, Toyota says. The engine has a smaller displacement than the Prius and Prius V. It's a 1.5-liter four-cylinder connected to the company's Hybrid Synergy Drive system.
Bluetooth connectivity, nine airbags and steering-wheel-mounted controls will come standard. Toyota's Entune multimedia system and a touch-screen display will be just a few of the available options.
Toyota says it will market the Prius c as its entry-level model to the Prius family — which includes the Prius v MPV and the Prius plug-in — and will come only in a four-door hatchback body style.
Although the Prius c will make its North American debut at Detroit, the model will be shown off later this month at the 2011 Tokyo Motor Show. (The regular Prius is the best-selling car in Japan.) The Prius c, called the Aqua in Japan, will go on sale there in December and in the U.S. by the spring.
We'll have more information once the 2012 Detroit auto show in January.
Clicking on any image below will launch a larger photo gallery; you can browse through them by hitting the right and left arrow keys.