Chrysler, Dodge, VW Minivans Earn IIHS Top Safety Pick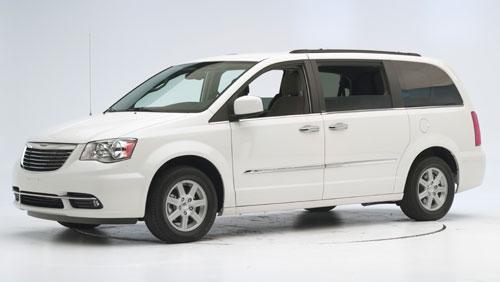 Chrysler's pair of near-identical minivans — the 2012 Chrysler Town & Country and Dodge Grand Caravan — as well as the Chrysler-built but Volkswagen-branded 2012 Routan have been named Top Safety Picks in the minivan category by the Insurance Institute for Highway Safety. The trio join the Honda Odyssey and Toyota Sienna.
To earn the award, a vehicle must earn the top rating of Good in front, side, rear and rollover crash tests. The vehicle also must be equipped with electronic stability control, which is standard on all 2012 vehicles.
The vehicle also must pass the institute's roof-strength test. To pass, the roof must withstand a force equal to four times the vehicle's weight before it caves in five inches. Ratings for the Town & Country, Grand Caravan and Routan are based on a roof-strength test conducted for the Town & Country alone. The Town & Country can withstand 4.51 times its own weight.
The Kia Sedona and Nissan Quest, which were tested but did not earn the Top Safety Pick award, fared poorly with roof strength. The Quest withstood 3.36 times its weight; the Sedona withstood just 2.31 times its weight. However, both models are rated Good in front and-side impact tests.
While the front and side-impact ratings apply to the 2008-12 model years of Chrysler minivans, the roof-strength test applies only to the 2012 model year. The minivans underwent additional changes that affected the models' roof, IIHS said.
Measurements taken from the dummies used during tests of the Chrysler minivans indicate a low risk of significant injury in a 40-mph frontal offset crash. Side-impact testing — a 31-mph perpendicular crash test — also shows a low risk of injury to the driver and/or rear passenger.
The Town & Country and Grand Caravan also have been tested under the National Highway Traffic Safety Administration's new testing standards, receiving an overall four out of five stars.