Dodge Debuts Charger, Challenger SRT8 Special Editions at 2011 L.A. Auto Show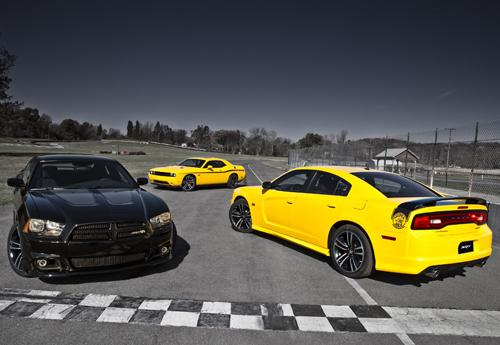 Two names from Dodge's past return for 2012 with the Dodge Charger SRT8 Super Bee and Dodge Challenger SRT8 Yellow Jacket. Both are appearance packages with interior and exterior add-ons including exterior graphics and embroidered seats with nostalgic flair. No additional performance upgrades are part of the packages.

The Super Bee name originated in the late 1960s and made an appearance on the previous Charger generation. For 2012, Super Bee Chargers are available in Stinger Yellow or Pitch Black exterior colors with unique graphic appointments for each color. The outside of yellow Super Bees have satin-black hood graphics; black cars have charcoal graphics. Yellow models also get a matte-black rear spoiler and black cars' spoilers are body-colored. Both color choices have 20-inch wheels with painted black highlights.
Inside the Super Bee are seats with silver-and-yellow striping along with an embroidered Super Bee emblem, a helmeted bee with wheels for legs. The logo also appears on the multimedia screen and front grille.
The 2012 Challenger Yellow Jacket is yellow only, featuring a blackened grille, body stripes, embroidered logos on the silver-striped seats as well as wheels with black highlights. The original Yellow Jacket was a Dodge Challenger concept vehicle from the late 1960s.
While the SRT8s are as powerful as most buyers desire, it's still strange to see a special edition without some kind of performance modification even if it's simply a different exhaust.
Charger Super Bee and Challenger Yellow Jackets will be on sale in the first quarter of 2012, though pre-orders start in December, just in time for the holidays.
Clicking on any image below will launch a larger photo gallery; you can browse through them by hitting the right and left arrow keys.