Hyundai Stops Marketing Accent, Elantra Base Models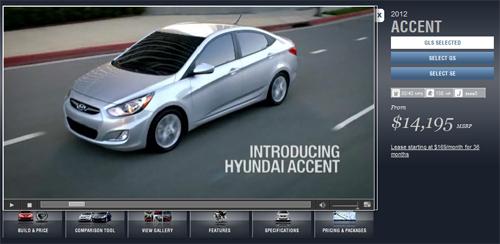 While the 2012 Hyundai Accent starts at $12,445 and the Hyundai Elantra at $15,195, you'd be hard pressed to find either of those low-priced models at Hyundai dealerships.
Because of the limited supply of base models, Hyundai has stopped marketing its base prices of the 2012 Accent and Elantra on its website. It's also due to limited interest in those base vehicles by dealers and car buyers alike, said Miles Johnson, a Hyundai spokesman.
When you go to Hyundai's website and use its configurator, it will automatically equip the Accent or Elantra with the Comfort Equipment Package (Package 2), Johnson said. The Accent's price change has been on Hyundai's website for at least a month, according to our observations.
As of last Friday, there were only four Accents on the ground with the base price of $12,455, said Johnson, who added that the "take rate was low" for both base Accents and Elantras. After a couple of months of low orders for the base models from dealerships, Hyundai's sales and marketing departments decided to change the price to reflect the trims that are more widely available.
The lowest-priced Accent shows up as $14,195 on the company's retail website. The GLS has a manual transmission and the Comfort Equipment Package, which adds air conditioning, iPod connectivity, power windows and mirrors, 172-watt stereo system and cloth door inserts. If you want an Accent with an automatic transmission, that model still starts at $15,195.
On Hyundai's website, the Elantra starts at $16,445 for the GLS trim with a manual transmission and the Comfort Package, which includes cruise control, air conditioning and a tilt/telescoping steering wheel. The 2012 Elantra's price was increased by $250 across the trim lineup less than a year after the launch of its redesign.
Technically, Hyundai hasn't raised its Elantra and Accent prices with this move. This is the same thing Toyota does with its attractive base Prius pricing that's essentially unavailable to retail car shoppers.
The more realistic pricing should help mend the differences between Hyundai's teaser rates and the actual pricing most customers will pay before leaving the lot.