MyFord Touch Gets Upgrade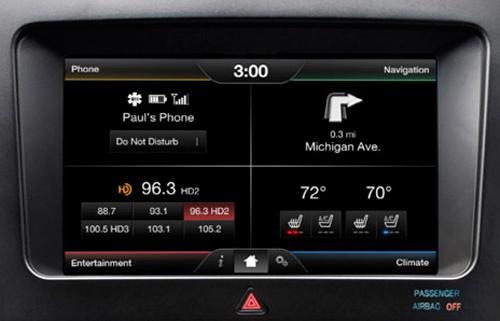 Ford has upgraded its MyFord and MyLincoln Touch systems to be faster and simpler to use, according to the automaker.
Prominent differences are simpler graphics and larger, bolder fonts used throughout the interface. We have images of the old and new screens below. It might be hard to judge if the newer versions are indeed an upgrade until people actually use them. What you can't see is a noticeable jump in performance. The new software is at least two times faster than the current system, Ford says.
The upgraded system will launch early next year on the 2013 Ford Escape, Flex and Taurus. Existing owners of MyFord and MyLincoln Touch are eligible for upgrade at no charge.
The improvements come after intense customer and critic complaints that the system was
confusing
,
slow and buggy
. In fact, MyFord Touch was partially blamed for the precipitous drop in Ford's reliability, according to separate studies conducted by
Consumer Reports
and
J.D. Power and Associates
.
Ford says the upgraded MyFord Touch is quicker to respond to voice commands and touch responses. The new fonts are wider, bolder and more legible, and some words are nearly 40% larger than before. Touch commands within the interface are better defined now, with box outlines that look more like pressable buttons. In total, nearly 1,000 screens have been improved.
The navigation interface has been simplified, too. For example, you no longer need to provide street directions; saying "Main Street" will suffice for route guidance instead of the old "North Main Street" prerequisite. The navigation system has richer map details, more 3-D landmarks and new freeway junctions and sign imaging.
Other voice commands have been simplified, making the prompts more organic to complete. The Gracenote album art database has been improved, as well as the automatic Bluetooth connection and the noise- and echo-canceling software.
In addition to the performance improvements, Ford has added more features to MyFord Touch, including Audible.com support and compatibility with Apple's iPad and other popular tablet computers.
The upgraded MyFord Touch system will make its way to new 2013 models as soon as they show up at dealerships. Existing customers will get the upgrade via a USB jump drive that will be mailed for self-installation, starting early next year.
New MyFord Touch
Old MyFord Touch
New MyFord Touch
Old MyFord Touch
More New MyFord Touch Photos