Reader Review of the Week: 2012 Hyundai Sonata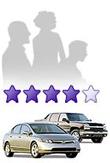 "Happy with Hyundai," from Cincinnati describes himself as a hard-working, middle-class cop who doesn't like to waste money. After extensive car shopping, this reader decided to go with a brand-new 2012 Hyundai Sonata to replace his 12-year-old Infiniti I30. So far, Happy with Hyundai has, as his nickname suggests, had a favorable experience with his Sonata. Continue reading the full review to find out more. Once you're done, write a review about your own car here.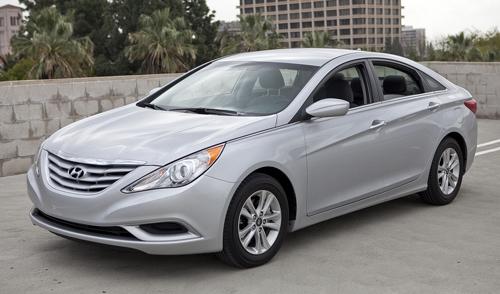 "After months of research and test drives, the 2012 Hyundai Sonata came out on top. I purchased the GLS model with the $750 option package that added a power driver's seat, alloy wheels, auto-dim lights and a few interior upgrades. I am right at 2,900 miles, mostly city, and am still excited to drive it. I'm converting from a 1999 Infiniti I30, which had plenty of room and many nice options. Believe it or not, the Sonata has more interior room (front and back) than the I30. My family and friends have made the same comment without any prompting from me.
"While it may be a four-cylinder, it accelerates without hesitation or excess noise. Once at 65-75 mph, it cruises smoothly and quietly. Since I tend toward the deaf side, I had my all-hearing wife drive it for a few days, and she agreed that it drove quietly. I think it handles very well, but temper that with the 12-year-old I30 I was driving. The seats are very comfortable, both front and back, and I have had a rear passenger that is 6-foot-4, with a front passenger that is 6 feet, with no knee-touching-seat problem. The trunk is HUGE. ... Take a look, and you will be amazed.
"A compliment I hear frequently is the dash and control setup. It looks sleek and is ergonomically friendly. I had one issue, and that was the XM radio would not pick up the signal to turn on. Hyundai was giving three months free upon purchase. After the first service visit, the decided to replace the radio. It worked fine once that was done. I made the suggestion that maybe the dealer should have the XM option activated prior to delivery of the vehicle.
"For what I paid, I consider this an excellent value for what you get. I would at least get the power driver's seat option, since the manual seat does not bring the seat up high enough to comfortably rest your left arm on the windowsill (if you drive like that). Now when I read these, I wonder about the person who wrote the review. Are they knowledgeable, crazy, hypercritical? I am a hard-working, middle-class cop who doesn't like to waste money. I researched and drove several cars, trying to learn something from each salesmen I spoke with. I'm no businessman, but it's obvious that some car salesmen were not quite so honest. I lucked out in the end and found someone who knew what fair deal meant. Hope this helps."