Honda has redesigned its venerable CR-V for the 2012 model year. This best-selling compact crossover has an improved interior, cargo configurations and ride quality. The CR-V easily carries five passengers, but when child-safety seats are added to the mix, only two of them fit in the rear seats.

For the Car Seat Check, we use a Graco SnugRide 30 rear-facing infant-safety seat, a Britax Roundabout convertible child-safety seat and Graco high-back TurboBooster seat.
The front seats are adjusted to a comfortable position for a 6-foot driver and a 5-foot-8 passenger. The three child seats are installed in the second row. The booster seat sits behind the driver's seat, and the infant seat and convertible seats are installed behind the passenger seat. We also install the infant seat in the second row's middle seat with the booster and convertible in the outboard seats to see if three car seats will fit. If there's a third row, we install the booster seat and a forward-facing convertible.

Here's how the 2012 CR-V did in Cars.com's Car Seat Check:

Latch system: The CR-V has five lower Latch anchors, with two sets in the outboard seats and the fifth anchor in the middle seat position. The anchors are easy to reach, but they sit close together, so we had to squeeze around our larger car seats to get to the inboard anchors.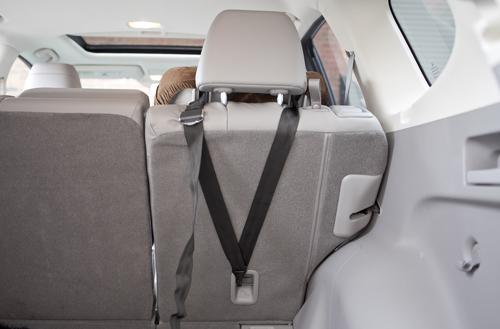 There are three tether anchors in the CR-V. The outboard tethers are midway down the seatbacks and easy to use. The middle seat's tether anchor is in the ceiling. When it's in use, it obstructs the driver's rear visibility.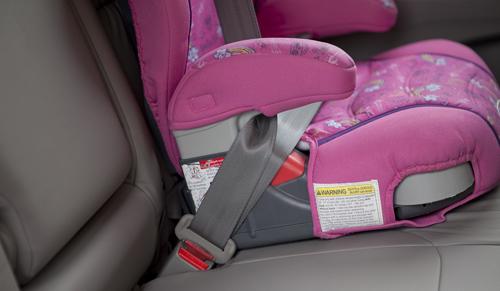 Booster seat: The backseat's flat cushions allowed for easy placement of our high-back booster seat. The seatback reclines to allow a good fit. The seat belt buckles are recessed into the bottom seat cushions, which could be problematic for younger kids trying to buckle independently.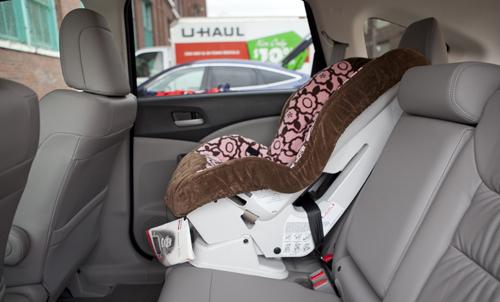 Convertible seat: Both the forward- and rear-facing convertible fit well in the CR-V.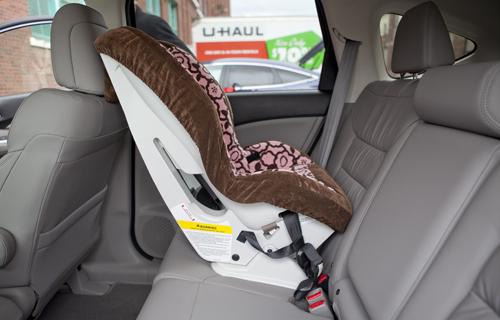 Infant-safety seat: To fit this rear-facing car seat, we had to move the front passenger seat forward one click. The front passenger still had plenty of legroom.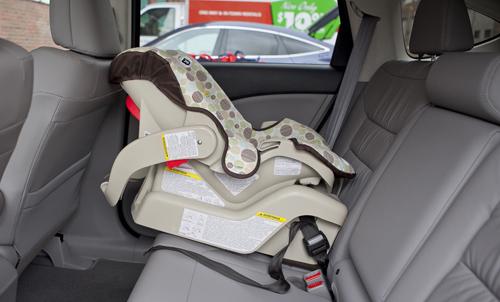 How many car seats fit in the second row? Two

Editor's note: For three car seats — infant-safety seat, convertible and booster seats — to fit in a car, our criterion is that a child sitting in the booster seat must be able to reach the seat belt buckle. Parents should also remember that they can use the Latch system or a seat belt to install a car seat.