2013 Cadillac ATS to Get 270-hp Four-Cylinder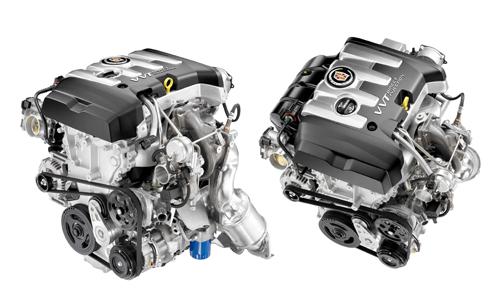 When Cadillac's ATS debuts at next month's North America International Auto Show in Detroit, GM will offer a turbocharged four-cylinder as the midlevel engine for its new sport sedan. Cadillac officials revealed the new 2.0-liter turbo in Detroit, saying that 90% of the engine is new. Drivers can expect about 270 horsepower and 260 pounds-feet of torque, thanks to a single twin-scroll turbo that feeds 20 pounds of boost.
The Buick Regal GS also has a 270-hp, turbocharged 2.0-liter four-cylinder, but Cadillac officials insist it's a different engine. (It makes 35 pounds-feet more torque.) The rear-wheel-drive ATS, a new sedan that slots under the CTS in Cadillac's lineup, has little in common with the front-wheel-drive Buick. Besides the turbo, the Caddy will also have direct-injected 2.5-liter four-cylinder and a 3.6-liter V-6 engines. We like GM's venerable direct-injection V-6, and a Cadillac official confirmed the 2.5-liter is the same four-cylinder from the 2013 Chevrolet Malibu. You can expect similar numbers - around 190 hp for the four-cylinder and somewhere north of 300 hp for the V-6.
Transmissions are still under wraps, but Cadillac says the 2.0-liter turbo will come with a manual or an automatic transmission. We'll have more details when the ATS breaks cover at next month's Detroit auto show. Stay tuned.