2013 Dodge Dart Interior Revealed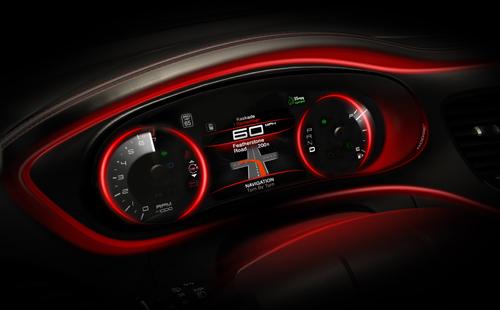 Dodge understands it will face an uphill battle in the compact-car category against more-established players like the Honda Civic, Toyota Corolla and even the new-ish Chevy Cruze, and it will try to compete against those sales leaders by offering exclusive interior amenities on its upcoming 2013 Dodge Dart. Those features include options normally reserved for luxury vehicles, such as a heated steering wheel, a digital gauge cluster and myriad interior color combinations.
On some models, a 7-inch digital gauge cluster will be available that allows for some customization of the instrumentation, similar to what we've seen on some Jaguars and Land Rovers, but definitely close to what's available on Ford vehicles equipped with MyFord Touch. An 8.4-inch center console display is also available. It's the same one offered in vehicles like the Chrysler 300, and we thought the system was fast-paced with minimal lag between menus.
The Dart will come with 10 airbags, the same number offered on the Cruze, and have "the interior spaciousness of a midsize sedan," according to the automaker. There will also be an ambient light system that, on some models, will include "racetrack" lighting surrounds that outline the center console display and the gauge cluster.
The interior can be customized in 14 different color and trim combinations, and 12 exterior colors are available, which is a lot for a compact car.
Clearly, Dodge will try to distinguish the Dart by offering more luxurious features than other models in the class. We'll have more information once we get closer to the 2012 Detroit auto show in early January.
To learn more about the powertrains that will be offered on the Dart and see some exterior body teasers, check out our First Look.