2013 Mercedes-Benz E-Class Hybrid at the 2012 Detroit Auto Show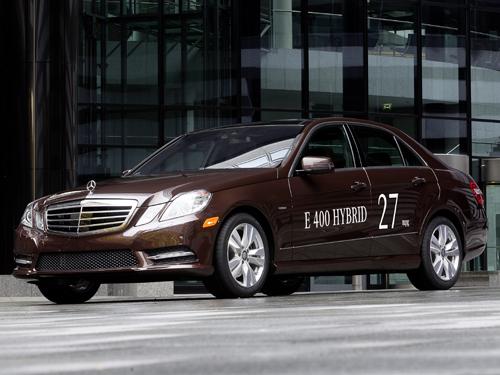 Competes with: Lexus GS 450h, BMW ActiveHybrid 5, Infiniti M Hybrid
Looks like: Mercedes won't let anyone win the hybrid race without a fight
Drivetrain: 302-hp V-6 gas/electric hybrid powertrain
Hits dealerships: Mid-2012
Mercedes-Benz will unveil a new hybrid system for its E-Class sedan at the 2012 Detroit auto show. The trim, called the 2013 Mercedes-Benz E400 Hybrid, will feature compact hybrid components attached to Mercedes' standard 3.5-liter V-6.
The gas/electric hybrid system — which includes auto start-stop, regenerative braking and pure electric driving, depending on speed — has an estimated 24/31 mpg city/highway rating and a 27 mpg combined rating, according to Mercedes. The system, which was originally featured on the S-Class, improves gas mileage by about 17% over the standard E350. The compact nature of the hybrid system means that neither passenger nor cargo space has been compromised, Mercedes says.
It's a marked improvement in gas mileage, but the gains do not compare favorably to the
2013 Lexus GS 450h
(29/34/31 mpg) or the
2012 Infiniti M Hybrid
(27/32/29 mpg). BMW hasn't announced mileage figures for its
2012 BMW ActiveHybrid 5
yet.
Mercedes says its hybrid will only cost moderately more than an E350 sedan, which currently starts at $50,490; the S400 Hybrid is an entry-level offering for the S-Class lineup, for instance. A similar tack might be planned for the E400 Hybrid.
The model will go on sale sometime in the middle of next year, the automaker says. We'll have more information when the hybrid debuts at the 2012 Detroit auto show.