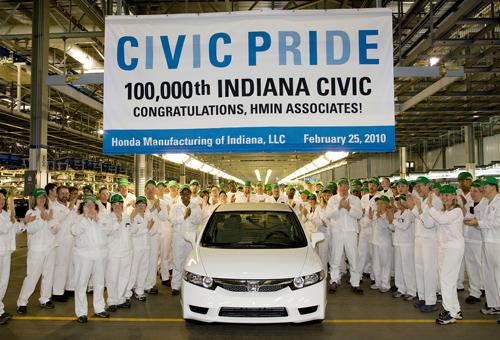 Acura's recently announced entry-level luxury sedan, the Acura ILX, will be built in America, the company said. The move marks the fifth vehicle from Acura — joining the MDX, RDX, ZDX and TL — that will be built in North America. The Acura RL and Acura's current entry-level car, the TSX, are built in Japan.
The ILX will be offered in three powertrains, and one will include a hybrid system. The hybrid model will also be built in America, and it will be parent company Honda's first hybrid model assembled in the U.S. The Honda Insight and Honda Civic Hybrid are built in Japan.
The ILX will be built at Honda's relatively new Greensburg, Ind., plant, which currently builds the Honda Civic. The ILX will be based off the Civic platform but will look nothing like the current Civic or the Canadian-marketed Acura CSX (which is essentially a Civic clone), Vicki Poponi, American Honda assistant vice president for product planning, told Automotive News.
The ILX will go into production in the spring. The model will accompany a totally redesigned RDX based off the restyled 2013 Honda CR-V, which will also arrive at dealerships around the same times as the ILX.
Related
Acura Bringing Three New Vehicles to 2012 Detroit Auto Show