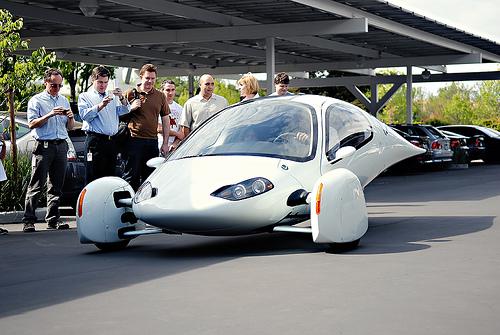 This probably won't come as much of a surprise to folks who have closely followed Aptera Motors — designers of a funky, three-wheeled electric car — but it looks like the company is shutting down. Aptera Motors announced today that it will close its doors permanently after it failed to get financing to complete work on its first model.
In a statement, Aptera President and CEO Paul Wilbur said the carmaker recently received a conditional commitment from the U.S. Department of Energy for a $150 million loan that would have had similar guidelines to the loans issued to other EV start-ups such as Tesla Motors and Fisker Automotive. Unfortunately, Aptera couldn't find the private matching funds required to get the loan.
Wilbur goes on to say that it was working on a five-passenger midsize sedan (similar in size to the Toyota Camry) that would have gotten 190 MPGe and cost about $30,000. The carmaker started working on the more conventional design nearly a year ago after it couldn't find enough investor interest in its three-wheeled car, called the Aptera 2e. The carmaker was going to assemble the vehicle using a scuttled GM plant in Moraine, Ohio, where Wilbur says it would have created 1,400 jobs.