Honda To Build Two High-Tech Hybrid Systems, More Fuel-Efficient Standard Engines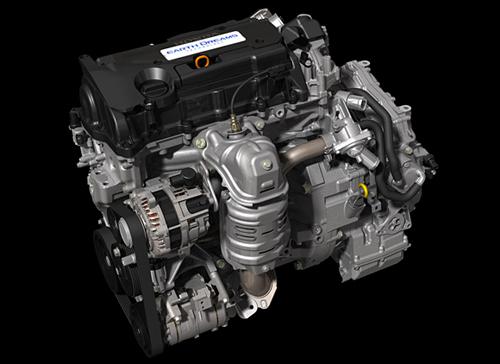 Honda's powertrain lineup is starting to look stale tech-wise compared to the competition. Despite the fuel-economy increases, the recently redesigned Honda Civic and CR-V essentially have carryover technology underneath their hoods. Under Honda's just-announced three-year powertrain plan, that landscape is about to change … quickly.
In real-world testing, the Civic has outperformed 40 mpg cars from Ford and Hyundai. Honda's updates will help reposition it as the most fuel-efficient automaker, overtaking Hyundai, according to the carmaker's plans.
In addition to a full complement of modern four-cylinders, the automaker announced three new continuously variable automatic transmissions. Honda also outlined two dual-mode hybrid systems that will complement its existing single-mode system in the Civic Hybrid and Insight.
All of Honda's four-cylinder engines will now feature double overhead camshafts in three years' time, replacing the old SOHC designs found on the Civic and Fit. All four-cylinders also will have direct injection over the current multipoint fuel-injection systems. Both changes should increase fuel efficiency.
Four-cylinder powertrains will ditch their five-speed automatics for a new CVT design. Three CVT designs will be used on all mini, compact and midsize vehicles equipped with four-cylinders. The transmission will add 10% better fuel efficiency compared to the former five-speed automatic transmission. However, the editors at Cars.com have found many CVT applications, especially on four-cylinder models, lacking in terms of driving feel and performance versus traditional automatics.
The 1.5-liter and 1.3-liter four-cylinder, currently found in the Civic Hybrid, Fit and Insight, also will feature additional extensive friction reduction measures. The 1.5-liter will make 127 horsepower, which is 10 more hp than what's available currently in the Fit, Keiji Ohtsu, a chief engineer with Honda R&D, told Automotive News.
The Civic's 1.8-liter and a new 2.0-liter four-cylinder will feature a high-capacity gas recirculation system to help reduce friction. The 2.0-liter will make its debut on the 2012 Honda CR-V in Japan, according to Honda. The 1.8-liter will produce 148 hp and eventually come equipped on the Civic, Ohtsu said.
Honda's bread and butter is its 2.4-liter four-cylinder that's available on the Accord and CR-V. The motor will be 5% more fuel efficient with the addition of DOHC and direct injection, says Honda. It will produce 181 hp, Ohtsu said.
Honda's 3.5-liter V-6 will now feature direct injection and a new valve train design, achieving 10% better fuel economy and producing 310 hp, Ohtsu said.
The 3.5-liter V-6 will also be the basis for one of two new full hybrid systems. The V-6 will be mated to a seven-speed dual-clutch automatic transmission and Honda's SH-AWD system. The all-wheel-drive system will feature two small electric motors in the rear wheels and a high-powered electric motor near the engine. Together, the four motors will achieve V-8-like power, but return four-cylinder-like gas mileage, says Honda. We expect the hybrid system will likely show up on the Acura TL. Honda says other large vehicles – perhaps the Pilot — will get the system, too.

The other full hybrid system will feature two electric motors and a 2.0-liter four-cylinder powertrain with lithium-ion batteries, according to Automotive News. The hybrid system will also be plug-in capable (first shown off on the Honda AC-X shown above). A midsize plug-in hybrid, likely the Honda Accord, will come out in 2012, with a hybrid-only model coming in 2013. The hybrid system will feature three modes, including an EV-only driving mode.
Honda's senior chief engineer Yusuke Hasegawa told Automotive News the model is expected to achieve better gas mileage than the 2012 Toyota Camry Hybrid, which returns 43/39 mpg city/highway. We'll probably get our first glimpse of the new hybrid hardware here when Honda shows off its redesigned Honda Accord.
An electric-only vehicle, the 2013 Honda Fit EV, was just announced and will show up in the U.S. next summer.
This is a major announcement from an automaker that's been flying under the radar in terms of major powertrain changes. Changes under the hood won't ignite consumer interest today, but higher mileage ratings down the road will be a vital competitive advantage.