Naughty or Nice: Front Seats
What one driver finds comfortable in a front seat, another may deride as sitting on lumpy coal. Seat comfort is different for everybody, though features like center armrests and tilt/telescoping steering wheels help drivers dial into the comfort zone. We'd like to see those features in every car, but we're not there yet.

More Naughty or Nice Picks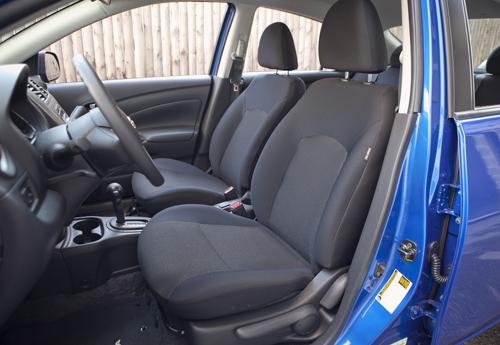 Naughty: 2012 Nissan Versa Sedan
Priced at $10,990, the redesigned 2012 Versa sedan lacks many creature comforts to reach its bottom-dollar price and claim the title of least-expensive new car sold in the U.S. Driver's seat comfort is at an instant disadvantage because there's no telescoping steering wheel or center armrest, and it gets worse. Taller drivers will find that their legs dangle off the front seat uncomfortably because of the cushion's short length. Add everything together and an editor wanted to take public transportation home instead of using the Versa to commute for more than an hour in traffic.
Nice: 2012 Honda Civic
In our previous compact-car shootout, every reviewer picked the Civic's seats as the most comfortable against the Hyundai Elantra, Chevrolet Cruze, Kia Forte and Ford Focus. The seats are comfortably padded and have ample support all over, plus the fabric quality has improved compared to the previous-generation Civic. A tilt/telescoping steering wheel is standard, as is a center arm rest.