Top 10 Best-Selling Cars: November 2011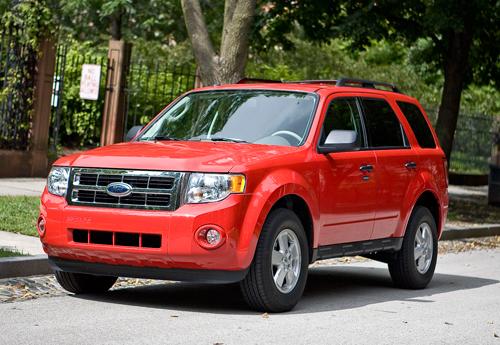 Improved consumer confidence had shoppers
spending record cash
on Black Friday — and perhaps that same enthusiasm boosted November's auto sales. In what turns out the best month since 2009's Cash for Clunkers-fueled summer, automakers and dealers piled on the incentives, and shoppers are, well, shopping.
Chrysler, Hyundai and Nissan posted huge sales gains, with modest upticks from Ford, GM and Toyota. Hobbled by diving sales for the Accord — which didn't make the top 10 — Honda was the only Big Six automaker to lose sales.
Two cars fell off the list for November, but the other faces are familiar.
The top two spots, unsurprisingly, remain with the Ford F-Series and Chevrolet Silverado. Sales of Ford's venerable pickup improved 23.9% in November, while the Silverado skyrocketed 33.7% despite similar incentives and dealer supplies for both trucks compared with a year ago.
The Toyota Camry retook best-selling-sedan status, a spot it's held five of the past 10 months, thanks to a redesigned model hitting dealers. As of Dec. 1, Cars.com shows 23,846 new 2012 Camry sedans in our national new-car inventory compared with just 2,044 of the outgoing 2011s. Incentives on the Camry, not surprisingly, have also decreased.
Ford keeps pushing cash deals on the aging Escape, though the modest uptick in incentives alone doesn't explain the SUV's 32.7% year-to-date sales spike. Ford sales head Ken Czubay said this was the best November in Escape history, and the Ford jumped four spots to fourth place. It appears news of the stylish next-gen Escape hasn't kept many shoppers on the sidelines.
The Nissan Altima came in fifth, improving 12.2% despite its age. The current generation dates back to late 2006, but the car still ranks as the second-best-selling sedan in America for November. The Ford Fusion — also aging versus the competition — is a tick behind, jumping four spots to sixth. Its sales increased 12.8% in November. Chrysler's Ram trucks improved 8.4% - not enough to outpace others, and dropping the Ram one spot to seventh. Still, the results beat what we had expected, given there are fewer Rams on dealer lots today than a year ago, and Chrysler is offering fewer cash discounts.
Honda's Civic and CR-V slotted eighth and ninth. Sales improved slightly for the Civic but fell 10.1% for the CR-V, whose inventories are far less compared with a year ago as the automaker readies the redesigned 2012 CR-V for sale later this month.
The Toyota Corolla, which hasn't been on this list since April, sneaked back to 10th. Sales were down 0.5% versus last November — when it fell one spot off the list — but that outpaced the two drop-offs, the Hyundai Sonata and Honda Accord. Toyota's Prius hybrid saw sales climb 48.7% to 15,208 units. While it didn't make the top 10, it shows the strength of Toyota's lineup when there is supply to meet demand.
The Accord ranks as the biggest loser, with sales down 14.5% for the month. Incentives remain about even with last year, but inventory is still low compared with the industry and the Accord's year-ago levels.
On the strength of Chevrolet and GMC, GM sales increased 6.9% in November. Year-to-date sales are up 14%, all but ensuring GM's post as America's most popular carmaker this year. Ford came in at No. 2 for November, with sales up 13.3%. Toyota roughly met expectations, improving 6.7% to remain at No. 3. Chrysler solidified its fourth-place spot, with sales up 44.5% with the Chrysler brand itself — albeit just three cars — jumping 92.2%, and Jeep up 49.8%.
Hyundai-Kia's November sales increased 28.7%, earning fifth place. In sixth was Nissan, whose sales improved 19.4%.
Inventory shortages still bedraggle seventh-place Honda. Despite the automaker saying Monday that full North American production — stung by flooding in Thailand — would resume today, inventories remain well below industry average, let alone Honda's year-ago levels. Honda/Acura sales fell 6.4% for the month.