2012 Chevrolet Sonic Gets 35 MPG Rating on Most Trims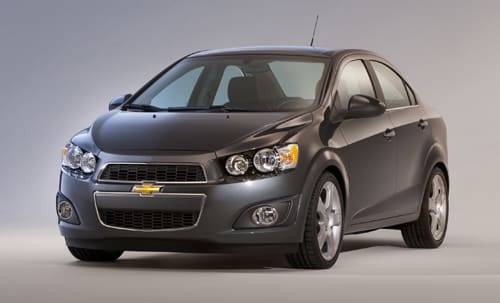 The standard 135-horsepower, 1.8-liter four-cylinder gets an EPA-estimated 26/35/29 mpg city/highway/combined with a five-speed manual transmission. With an optional six-speed automatic transmission, the 1.8-liter returns 25/35/28 mpg.
The only way to get 40 mpg is to opt for the 138-hp, turbocharged 1.4-liter four-cylinder, which comes with a six-speed manual transmission only. The engine is a $700 option for the higher level LT and LTZ trims. Cars.com shows more than 500 Sonics available, but none are equipped with the turbocharged motor just yet.
The Sonic's EPA rating is a disappointment compared to its competitors and even against its larger sibling, the Cruze. A 2012 Chevrolet Cruze equipped with the same 1.8-liter four-cylinder and a six-speed manual transmission gets 25/36/29 mpg; the Cruze Eco with an automatic transmission gets a 26/39/31 mpg rating. The fact that the lighter-weight Sonic scores no better than a Cruze is probably due to aerodynamics.
Competitors like the 2012 Hyundai Accent (30/40 mpg), 2012 Ford Fiesta SFE (29/40 mpg), 2012 Toyota Yaris (30/35 mpg) and 2012 Honda Fit (28/35 mpg) all score better. To add insult to injury, the Sonic scores worse, or no better, than the outgoing 2011 Chevy Aveo, which got 27/35/30 mpg with a manual transmission and a combined 28 mpg with a four-speed automatic transmission.
We don't know if GM plans on releasing an Eco version of the Sonic, which would help it compete with other fuel misers. For now, the model will likely try to compete on price since it's behind the field on mileage.
The 2012 Chevy Sonic went on sale earlier this month.
Related
2012 Chevrolet Sonic Priced at $13,735