2012 Ford Electric Priced at $39,200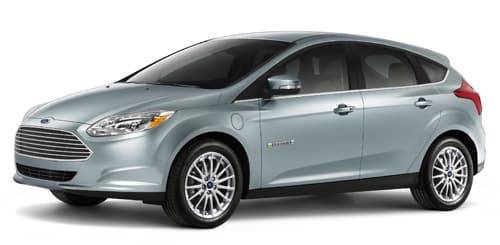 In contrast, the Nissan Leaf starts at $35,200, and the Mitsubishi i starts at $29,125. Currently, that makes the Ford Focus the most expensive of the mainstream electric cars, but it comes better equipped than the rest. The 2012 Coda EV, which recently went on sale, costs $44,900. All of these electric cars are eligible for a $7,500 tax credit. If you're eligible for the whole credit, that would translate to a $31,700 asking price for the Focus Electric.
The model comes nicely equipped with automatic headlights, a 10-speaker Sony stereo, dual-zone automatic climate control, MyFord Touch, navigation, 8-inch touch-screen display, backup camera, rear parking sensor, leather-wrapped steering wheel, passive entry system and push-button start. The upholstery is an earth-friendly cloth made of 100% post-industrial materials; materials that would otherwise end up in landfills, according to Ford. Leather seats are a $995 option.
The Focus Electric is powered by a 123-horespower, 100-kilowatt AC electric motor that makes 181 pounds-feet of torque, mated to a single-speed automatic transmission. The 23-kilowatt lithium-ion battery pack is a kilowatt less than the Leaf's battery. The Focus EV has a top speed of 84 mph, much lower than the Leaf's top governed speed of 90 mph. Unlike the Leaf, the Focus' battery pack is liquid cooled and heated, which is supposed to better regulate battery temperatures in extreme weather. The car can get a full charge on a 240-volt outlet in three to four hours, Ford says, compared with the eight hours it takes to charge the Leaf at the same voltage. There's no fast-DC-charging option in the Focus EV; the Leaf theoretically can be charged to 80% in 30 minutes with this added-cost option that we've tested on the Cars.com long-term Leaf.
Total range is pending, but earlier indications are the Focus EV will go about as far as the Leaf. Ford's modular 240-volt charging station can be removed from your home if you move, and the automaker says it will save Focus EV buyers $500 to $700 compared with the 240-volt stations offered by Nissan and GM.
The Focus EV looks like a more aerodynamic version of the Focus, with 17-inch Michelin Energy Saver tires and a large trapezoidal grille that appears to be fashioned by Aston Martin, according to Cars.com Industry Analyst Kelsey Mays. A plug port sits above the driver-side front fender. Inside, twin LCD screens flank the speedometer, with battery charge in place of a fuel gauge. 
Besides those nuanced differences, this pretty much looks like a regular Focus, which raises a potential problem: It's hard to show off a near-$40,000 gasless car (and thus making your neighbors jealous) if it looks the same as its gas counterpart … one that has a sub-$17,000 starting price. Still, if vanity is your aim in the eco-conscious game, we haven't experienced much envy for our Leaf, either; most people think it's a cute compact car.