2012 Jeep Grand Cherokee Gets $3,000 Price Cut, Upgraded Wrangler Price Unchanged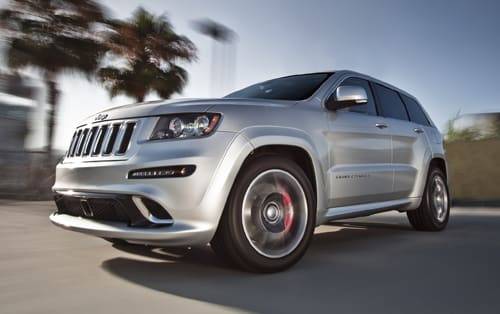 The 2012 Jeep Wrangler — with a much needed new V-6 that's more efficient and powerful — will go on sale with the same entry-level price as the 2011 model. 
Major changes to the 2012 Grand Cherokee include the addition of a six-speed automatic transmission for V-8-powered trims. Electro-hydraulic power-assisted steering is also new for the V-6-powered trims (replacing the hydraulic setup), which has helped increase fuel economy. Grand Cherokees with the V-6 now achieve 17/23 mpg city/highway with rear-wheel drive (up from 16/23 mpg in 2011), and four-wheel-drive V-6 models get 16/23 mpg (the 2011 model got 16/22 mpg). The V-8-powered Grand Cherokee, with the new transmission, doesn't have fuel-economy figures yet.
The 2012 Grand Cherokee comes in the same trims as 2011: Laredo ($26,995), Limited ($36,795) and Overland ($39,495). The 360-hp V-8, with the six-speed automatic transmission, is a $1,695 option on all trims. Four-wheel drive is a $2,000 option on the Laredo. The SRT8 model is all-new for 2012 and starts at $54,470.
While we don't yet have detailed feature information, we have some anecdotal evidence that Jeep removed some features on the base Laredo to allow for the price drop. The 2012 Grand Cherokee base doesn't have a standard power eight-way driver's seat as it did in 2011, and other optional features seem to cost more than they did before. For instance, the Laredo's leather upholstery package jumps from $4,000 to $5,300, but it likely includes more features. Features and pricing on the Limited and Overland remain comparable to the 2011 model year.
The 2012 Dodge Durango, which is a sister vehicle to the Jeep Grand Cherokee, also sees a slight price decline of $200 from the 2011 Durango's $28,995 starting price. The 2012 Durango also gets the same mechanical upgrades as the Jeep.
We've covered the 2012 Jeep Wrangler refresh: The model gets a new 290-horsepower Pentastar V-6 that's mated to a new five-speed automatic transmission. The new model can achieve upward of 17/21 mpg – both power and fuel economy is vastly improved over the old model.
The 2012 Wrangler comes in Sport, Sahara and Rubicon trims on the two-door model, and Sport, Sahara, Rubicon and RHD trims on the Wrangler Unlimited model.
The Wrangler starts at $22,045, while the Wrangler Unlimited starts at $25,545, which means base pricing is unchanged for the model year.
Both models will go on sale at the beginning of September, according to Chrysler spokesman Todd Goyer.
---
2012 Jeep Grand Cherokee (2011 pricing)
Laredo: $26,995 ($30,215)
Laredo 4×4: $28,995 ($32,215)
Limited: $36,795 ($36,715)
Limited 4×4: $39,295 ($39,215)
Overland: $39,495 ($38,795)
Overland 4×4: $42,995 ($42,295)
Destination charge: $825 (same)
---
2012 Jeep Wrangler
Sport: $22,045 (same)
Sahara: $27,970 ($27,745)
Rubicon 4×4 $29,995 ($29,820)
Destination charge: $800 (same)
---
2012 Jeep Wrangler Unlimited
Sport: $25,545 (same)
RHD: $29,435 ($28,910)
Sahara: $30,745 ($30,445)
Rubicon: $33,570 ($33,320)
Destination charge: $800 (same)