2012 Volkswagen Golf R Confirmed for U.S.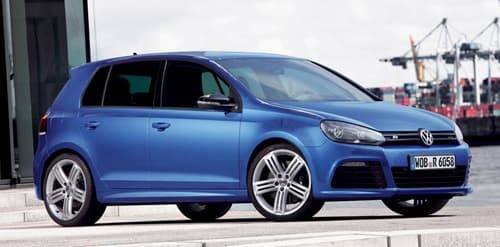 The Golf has a strong engine lineup – there are turbo, diesel and naturally aspirated models already. But for the 2012 model year, expect a new high-performance model, which Volkswagen is dubbing the Golf R.
The last R type we had here was the Golf R32; it was discontinued in 2008. Unlike that model, the new Golf R won't have a V-6 powertrain, but it will keep the GTI's 2.0-liter turbocharged four-cylinder, and it will have more horsepower. The European version currently cranks out 270 hp and 258 pounds-feet of torque, according to Autoblog.
While we enjoyed the energetic handling of the GTI Golf, the 200-hp turbo four-cylinder wasn't the quickest in the segment. The Golf R should correct that problem.
Continue reading below for a rundown of all the features to come on the 2012 VW Golf R:  
2.0-liter turbocharged four-cylinder engine with more horsepower than the GTI  
Fourth-generation Haldex 4Motion all-wheel drive  
Increased rotor diameter for improved braking  
Sport-tuned electronic stability control 
Upgraded sport-tuned suspension 
Two or four doors 
Manual transmission only 
Unique 18-inch alloy wheels 
Unique steering wheel 
Unique interior trim 
Exterior R model badge and body kit 
R model shift knob 
R model doorsills 
R model front and rear fascia with center-exit dual exhaust