2012 Volkswagen Passat: Up Close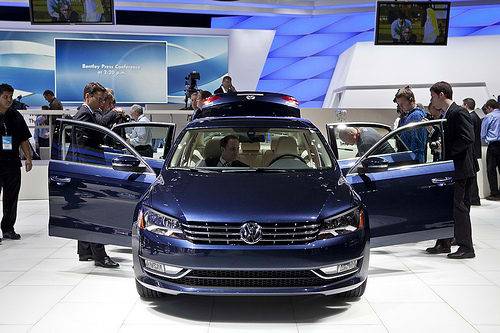 In the media scrum after Volkswagen's Passat unveiling today, I'm tapping away on my laptop in the backseat. A 6-foot man in the driver's seat says he has it adjusted to a comfortable driving position. I have enough room to sit with my legs comfortably extended, the laptop perched on my knees. There are 6 or 8 inches between my knees and the front seatbacks. Up front, sitting where I would drive, I could move the seat back another 4 or 5 inches before it runs out of track. LeBron James could drive this thing (just not to Cleveland).
More details and photos of the 2012 Volkswagen Passat
Suffice it to say, the new Passat is roomy. Cavernous. Friggin' huge.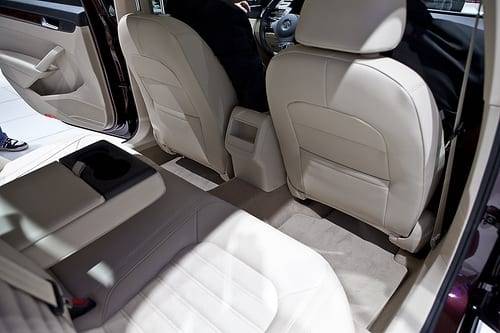 But we suspected as much when the automaker made it clear it would create a sedan just for American tastes. The looming question: Could VW trim the family sedan down to $20,000 — a price that's competitive with the Camrys and Accords of the world, but one the Passat hasn't cost since 1998 — while maintaining the cabin quality for which the automaker is known?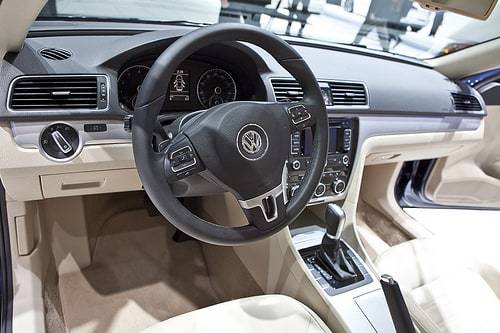 In the largest sense, yes. The cabin loses a few amenities that set the old Passat apart — the center armrest is no longer height-adjustable, the backseat lacks center air vents, the B- and C-pillars are now plastic — but it's competitive with other family cars, and the roomy-as-hell backseat should draw a number of parents who can't stuff their plus-sized child seats into a Ford Fusion.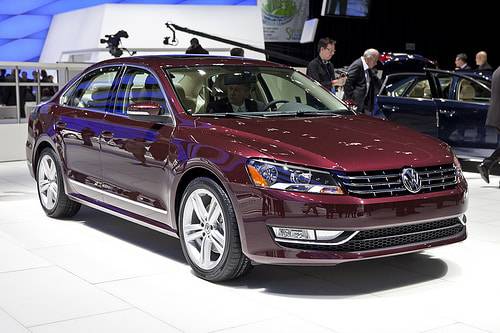 Styling similarities to the Jetta are not a knock on the Passat. This is a sharp car. The cabin has an appealing rear-set profile, and the tail mimics many of Audi's sedans. I see some of Honda's refreshed 2011 Accord up front, particularly in the grille's plunging horizontal strakes.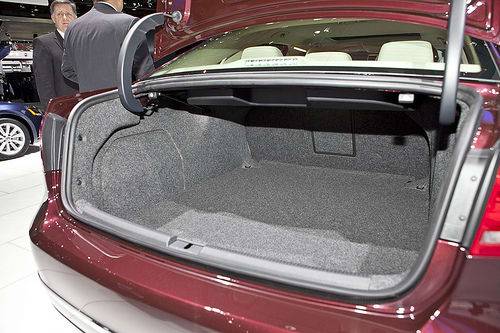 Product planner Brett Scott said the trunk is slightly larger than the outgoing Passat's, which had 14.2 cubic feet. That's not terribly impressive, but the trunk itself looks large enough, with a rectangular bay for full-size luggage. The standard 60/40-split rear seat folds nearly flat, and the resulting opening is pretty huge.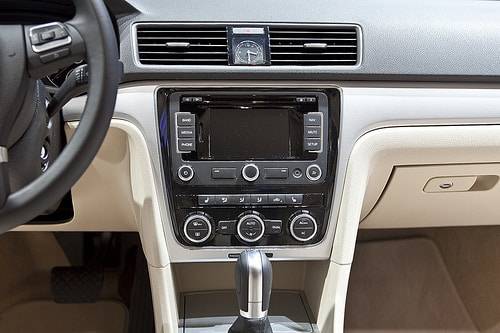 Still, I can't abide by the five-cylinder engine replacing last year's beloved turbo four. Scott defended the decision: "In this segment, we found 170 horsepower is enough," he said.
Perhaps, but that five-cylinder isn't the most refined engine — and the Passat will likely be the heaviest car to carry it yet. Scott characterized the car's chassis tuning as very similar to the outgoing Passat's; all-wheel-drive won't be offered. We'll report more on all the drivetrain variants, including the 43-mpg-highway Passat TDI, once we're behind the wheel.