2012 Cadillac Escalade Gets Security Enhancements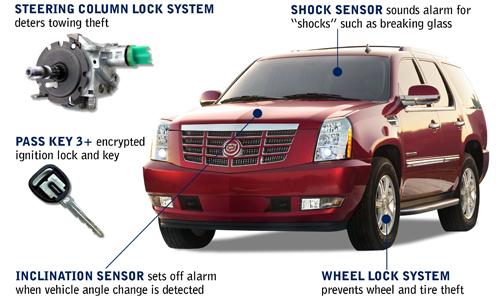 One of the most stolen vehicles in the U.S. just got tougher to boost. For 2012, Cadillac is adding new security features that make the Escalade harder to steal, especially for thieves trying to push or tow the automaker's large luxury SUV.
Car thieves are apparently drawn to big, blingy vehicles; Cadillac's high-profile Escalade consistently tops the Highway Loss Data Institute's list of most popular vehicles to steal. The Escalade EXT, with its pickup-truck bed, appeals most to burglars, according to the institute.
The new standard safety features include PASS Key 3+, which encrypts the key and the ignition system and reduces the risk of drive-away thefts. To deter push-away and tow-away thefts, Escalades will have a tougher steering-column-lock system and a sensor that detects an unexpected change in incline and sounds an alarm. Also available are new shock sensors that sound an alarm if a window is broken and a wheel lock system designed to prevent thieves from making off with Escalade's wheels and tires.
These added security measures are in addition to the theft-monitoring functions already provided by GM's OnStar security system. OnStar offers remote-engine lock and stolen-vehicle slowdown functionality after a vehicle has already been compromised.