2012 Mitsubishi Lancer: Car Seat Check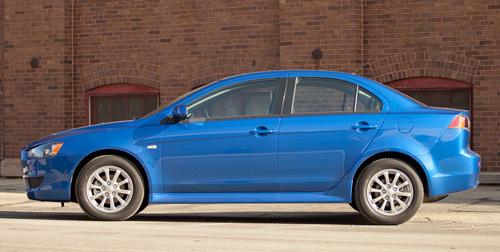 The 2012 Mitsubishi Lancer is a small sedan that takes an aggressive stance with its forward-leaning grille. For parents trying to hold onto their carefree past, the top-of-the-line Lancer Ralliart trim adds some excitement with a gaping grille, hood scoop and turbocharged four-cylinder engine. The Lancer seats five.
For the Car Seat Check, we use a Graco SnugRide 30 rear-facing infant-safety seat, a Britax Roundabout convertible child-safety seat and Graco high-back TurboBooster seat.
The front seats are adjusted to a comfortable position for a 6-foot driver and a 5-foot-8 passenger. The three child seats are installed in the second row. The booster seat sits behind the driver's seat, and the infant seat and convertible seats are installed behind the passenger seat. We also install the infant seat in the second row's middle seat with the booster and convertible in the outboard seats to see if three car seats will fit. If there's a third row, we install the booster seat and a forward-facing convertible.
Here's how the 2012 Lancer did in Cars.com's Car Seat Check:
Latch system: The Lancer's two sets of lower Latch anchors are easy to find in the outboard seats. They sit in large slits in the seat upholstery. Three tethers sit on the rear shelf behind the backseat's head restraints. They're easy to use and sit under plastic covers.
Booster seat: Our high-back booster seat fit well after we removed the head restraint. However, there's not a lot of legroom in the second row. The seat belt buckle is floppy and tends to fall behind the booster seat, making it difficult for young kids to buckle up independently.
Convertible seat: The forward-facing convertible seat fit well; we had to remove the head restraint with this car seat, too. The rear-facing convertible fit in the backseat without having to move the front passenger seat forward.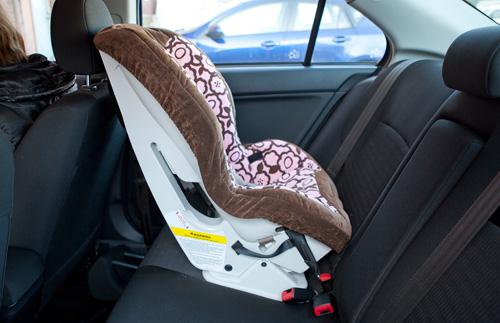 Infant-safety seat: With this rear-facing infant seat, we had to move the front passenger seat forward a couple of inches to create enough room for this car seat. The front passenger still had ample legroom, however.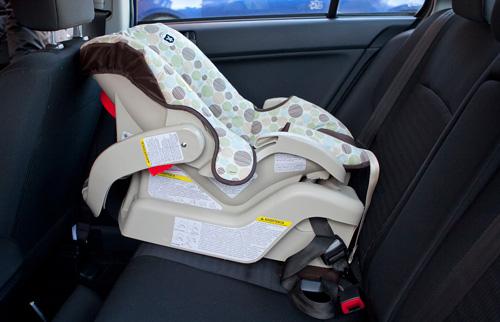 How many car seats fit in the second row? Two
Editor's note: For three car seats — infant-safety seat, convertible and booster seats — to fit in a car, our criterion is that a child sitting in the booster seat must be able to reach the seat belt buckle. Parents should also remember that they can use the Latch system or a seat belt to install a car seat.