2012 Toyota Prius v: Car Seat Check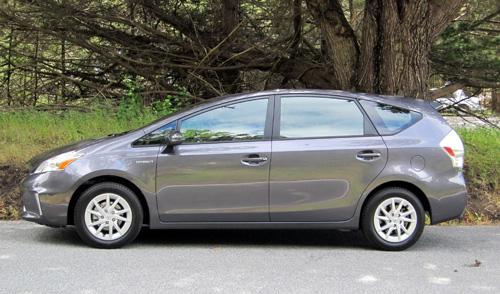 The 2012 Toyota Prius v is a family-friendly version of the Prius. It has more backseat legroom and cargo room for hauling kids, their child-safety seats and all the gear that goes along with family life. This five-seat wagon gets an EPA-estimated 44/40 mpg city/highway compared with the regular Prius' 51/48 mpg.
For the Car Seat Check, we use a Graco SnugRide 30 rear-facing infant-safety seat, a Britax Roundabout convertible child-safety seat and Graco high-back TurboBooster seat.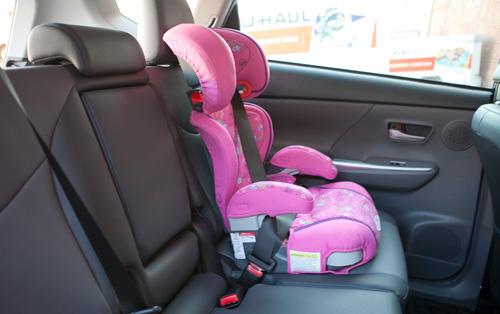 The front seats are adjusted to a comfortable position for a 6-foot driver and a 5-foot-8 passenger. The three child seats are installed in the second row. The booster seat sits behind the driver's seat, and the infant seat and convertible seats are installed behind the passenger seat. We also install the infant seat in the second row's middle seat with the booster and convertible in the outboard seats to see if three car seats will fit. If there's a third row, we install the booster seat and a forward-facing convertible.
Here's how the 2012 Prius v did in Cars.com's Car Seat Check:
Latch system: The Prius v has two sets of lower Latch anchors in zippered pockets in the outboard seats. These pockets blend in seamlessly with the seat upholstery, and we had a difficult time finding them. The anchors are positioned somewhat close to each other, leading to many scraped knuckles when installing car seats.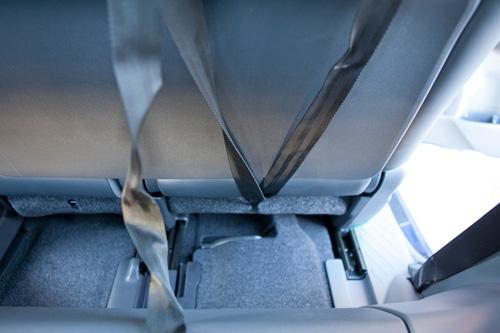 The three tether anchors are at the base of the second row's seatbacks, but the cargo floor covers them. To access them, just slide the second-row seats forward.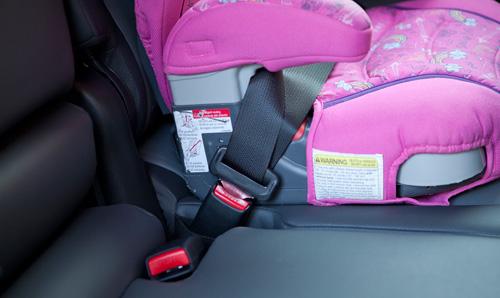 Booster seat: Our high-back booster seat fit well in the Prius v. To get a good fit, we reclined the seatback a bit. The seat belt buckles sit low in the seat bottom cushions, but they're not so low that the booster ran over the buckle.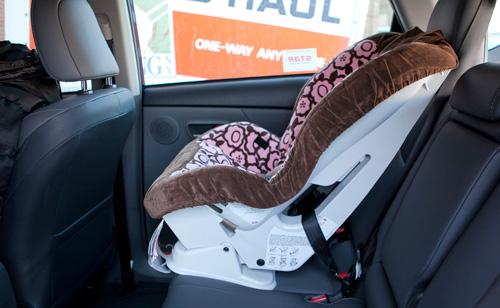 Convertible seat: The forward-facing convertible fit well, and the rear-facing convertible also fit in the second row, with no need to move the front passenger seat forward.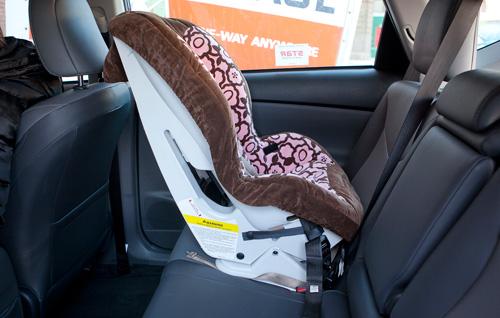 Infant-safety seat: Even after sliding the second-row seats all the way back, we had to move the front passenger seat forward roughly a half-inch to create enough room for the rear-facing infant seat.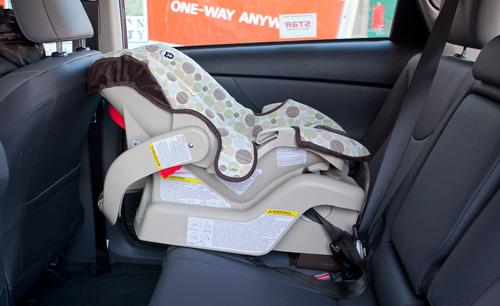 How many car seats fit in the second row? Two
Editor's note: For three car seats — infant-safety seat, convertible and booster seats — to fit in a car, our criterion is that a child sitting in the booster seat must be able to reach the seat belt buckle. Parents should also remember that they can use the Latch system or a seat belt to install a car seat.