2013 Buick Encore at the 2012 Detroit Auto Show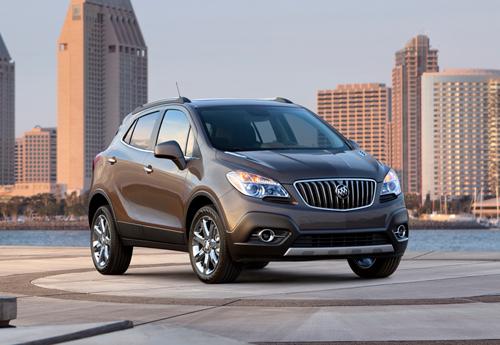 Competes with: Volkswagen Tiguan, Mazda CX-5, Ford Escape
Looks like: Buick's version of the deceased Saturn Vue
Drivetrain: 140-horsepower, 1.4-liter turbocharged four-cylinder with six-speed automatic; front- or all-wheel drive
Hits dealerships: Early 2013
Buick's baby crossover is here, and "baby" is no joke. It's so much smaller than the three-row Enclave — nearly 3 feet shorter from bumper to bumper and 9.1 inches narrower — that Buick officials told us another crossover could slot between the two. The Encore stretches the limits of entry-luxury crossovers, taking on models that haven't even arrived here yet: the BMW X1 and Audi Q3, which slot below existing entry-luxury crossovers like the X3 and Q5. When the Encore hits dealers early next year, you might also shop it against a Volkswagen Tiguan or Mazda CX-5.
More 2012 Detroit Auto Show Coverage
The Encore's overall shape looks like the erstwhile Saturn Vue, with Buick cues in the grille, faux hood portals and blue-ensconced headlights. Faux vents cut an odd chunk from the lights themselves — a strange cue we'll have to warm up to. The Encore's lower flanks have a darker finish, but Buick matches them to a pearl paint if you specify the color. Short overhangs characterize the profile, which sits on 18-inch aluminum wheels.
The rear suspension uses a semi-independent torsion beam — the stuff of economy cars — but models from the Hyundai Elantra to the Volkswagen Jetta ride well enough with the setup, so we can't knock it until we drive it.
The cabin boasts gobs of insulation and active noise cancellation, the latter a Buick first. Buick's standard IntelliLink multimedia system can stream smartphone apps through a 7-inch dash display. Like the Verano sedan, the Encore comes standard with leatherette-and-cloth or full-leather seats. Options include heated front seats, a heated steering wheel, a navigation system and a backup camera.
Behind the rear seats is 18.5 cubic feet of cargo room. Fold the seats down, and the Encore has 48.4 cubic feet — closer to hatchback than SUV territory, but similar to the space in the X1 and Q3, Buick says.
We wonder if GM's 1.4-liter turbocharged four-cylinder will imbue the Encore with much passing power; it's the sole engine. With 140 horsepower and 148 pounds-feet of torque, the tiny four-cylinder works through a six-speed automatic transmission. All-wheel drive is optional. Buick has yet to estimate gas mileage, but the same engine helps the Chevrolet Cruze and Sonic achieve 40-plus mpg. The Encore is in the same weight ballpark, so we'll see how it does.
Clicking on any image below will launch a larger photo gallery; you can browse through them by hitting the right and left arrow keys.