2013 Dodge Dart: Up Close
It's not a Neon. It's not a Caliber either. Dodge's new Dart abandons the oversized crosshairs across Dodge's lineup to good effect. Viewed from all angles, it could beat the Hyundai Elantra and Ford Focus for best-looking small car. The nose looks sharp with the R/T's black bumper treatment, and the Rallye and Limited — both scattered about the auto show — maintain a similar presence. The continuous band of taillights suggests the Charger, and the show cars' bumpers have clean tailpipe integration. Nice, and not the norm among small cars.
More 2012 Detroit Auto Show Coverage
You pay a small price for it in visibility, but it's one a lot of shoppers will accept. The thick C-pillars inhibit a lot of over-the-shoulder sightlines, with useless rear-quarter portholes; for a commuter car, the side mirrors are too small. Storage options abound inside, with a clever well under the passenger-seat cushion to stash something. The glove box, meanwhile, is deep enough to go spelunking.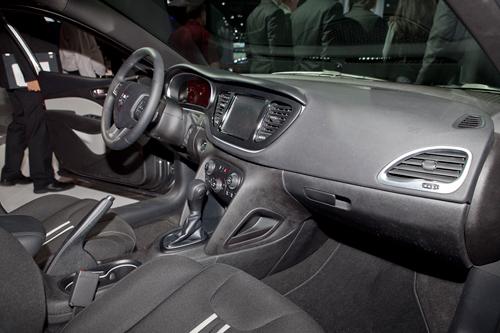 Like Ford does in the Focus, Dodge swaps in some harder door plastics on lower trim levels, but the R/T — with a stitched hood over the dash and padding at all elbow points — impresses. Dodge's 8.4-inch center screen dominates the dash, with lightning-fast menu response. (Ford, take notes.) More innovative is the available center gauge display, which engulfs a lot of real estate behind the wheel. It can simulate a digital or analog speedometer, among a lot of other screens. It's impressive to see a small car offer this.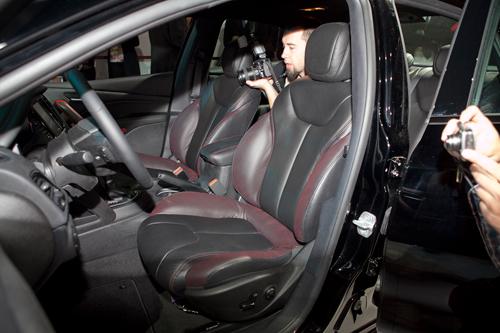 Whether cloth or leather, the bolstered front seats suffer a little from the Fiat 500 effect. The cushions are too short for leggier adults, and the aggressive bolsters won't suit some. Backseat room impresses, ramming home the Dart's 97.2 cubic feet of cabin volume (a Focus has about 91). The rear seat cushions could still be longer but legroom is adult-friendly, and the smallish center hump preserves foot room.
At 13.1 cubic feet, cargo room is unexceptional. But Dodge will offer a 60/40-split folding backseat with a center pass-through — again, beyond the norm.