2013 Hyundai Genesis Coupe at the 2012 Detroit Auto Show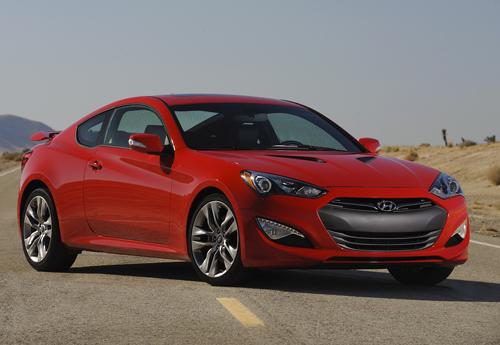 Competes with: Scion FR-S, Subaru BRZ, Ford Mustang
Looks like: In-your-face styling complemented by more aggressive performance tuning
Drivetrain: 274-horsepower, turbocharged 2.0-liter four-cylinder or 348-hp, 3.8-liter V-6; eight-speed automatic transmission or six-speed manual transmission
Hits dealerships: Early spring 2012
The Hyundai Genesis coupe hasn't been on sale for long, but the Korean automaker has decided to give the sports coupe a fairly robust mid-cycle refresh that includes a new interior, new exterior appearance and more powerful, fuel-efficient powertrain options for the 2013 model year.
More 2012 Detroit Auto Show Coverage
Starting with the exterior appearance, Hyundai has added a little more flare by revising the front end with new headlight, hood, grille and fog light designs. Out back, there are new LED taillamps. In the cabin, the Genesis coupe gets new instruments, a padded, stitched dash, and a brake lever that's now leather-wrapped (when equipped with leather upholstery). Front seats now have a seat belt assist guide to make buckling up easier, and the driver's side seat gets a walk-in assist function to make it easier for rear passengers to hop in.
Overall, the look is a bit more menacing and a little less innocuous. That's a good thing for a vehicle competing in a segment known for models with a bark-and-bite persona.
Speaking of bite, performance junkies (and fuel-conscious customers alike) will be happy to know Hyundai has focused most of its resources on upgrading the performance of the Genesis coupe. We thought the previous model was somewhat lacking in the performance department, which is arguably the most important attribute for a model like this.
The 3.8-liter V-6 gets direct injection, which adds 42 more horsepower and 29 pounds-feet of torque for a total of 348 hp. The base four-cylinder sees a 30% increase in power (on premium fuel), now producing 274 hp. Both engines get a new eight-speed automatic transmission option. The improvements have increased acceleration with either powertrain. There's also a slight increase to fuel economy: The V-6 now achieves 18/28 mpg city/highway and the four-cylinder gets 20/31 mpg with the new automatic transmission.
Hyundai also recalibrated the suspension system. According to Hyundai, the springs, dampers and bushings have all been retuned for better road feel, body motion control and improved ride comfort. The steering ratio is 7% quicker and now has a telescopic adjustment (as opposed to just tilt like last year). Genesis coupe R-Spec and Track trims have the option of a front strut assembly for even more precise steering.
The Genesis coupe hasn't exactly set the sales charts on fire. Hyundai has sold about 35,000 since the model went on sale in 2009.
In our reviews, we found the Genesis coupe lacked the proper performance credentials to compete with models like the Ford Mustang or Chevrolet Camaro. The new updates sound promising, but we'll have to actually drive the new model to see if the improvements are enough to make the Genesis coupe truly competitive, especially against new closely matched competitors from Subaru and Scion, the BRZ and FR-S, respectively.
Clicking on any image below will launch a larger photo gallery; you can browse through them by hitting the right and left arrow keys.