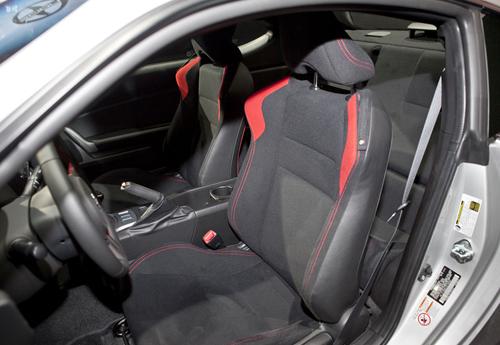 Scion's FR-S sports car has a chance to be the next big hit in affordable performance with its promise of nimble handling combined with a driver-oriented cockpit and Jenny-Craig-like weight management. Like many sports cars, a big tachometer rather than a speedometer sits front and center in the FR-S' gauge cluster to monitor engine revs.
More 2012 Detroit Auto Show Coverage
Other bits on the inside help the Scion pull off a driver's car feel. The show car I inspected had red stitching on the steering wheel, gear selector, hand brake and seats, which were bolstered tightly to my sides. The quality of stitching and materials look and feel good for its rumored price of around $25,000.
The FR-S is a tiny car. While I was comfortable in the driver's seat — I'm 6 feet tall with a slender build — there's not much room to spare. Scion opted to nix a sunroof option and hatchback body style in favor of a solid roof and trunk for chassis rigidity and weight savings. The FR-S fits like a glove.
The outside shows off a badge featuring horizontally-opposed cylinders — the engine is a flat four-cylinder — and the numbers "86," referencing a classic Toyota sports car, the AE86, that follows a similar performance approach. The badges look good in pictures and the idea is clever, but they look tacked-on and showy for what is otherwise a clean, chiseled package.
It's been a long road to a production version of the FR-S with concept after concept after concept. For a select 86 people, that road may be shorter than others as Scion will give them the first crack at buying an FR-S at www.ScionFirst86.com, starting at noon EST Jan. 12 and running for 8 hours and 6 minutes.