2013 Volkswagen Jetta Hybrid at the 2012 Detroit Auto Show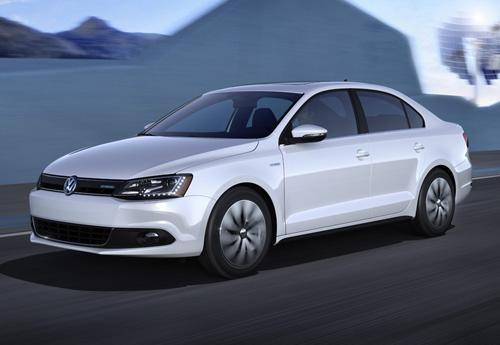 Competes with: Honda Civic Hybrid, Toyota Prius
Looks like: This Jetta's headlights have been bedazzled
Drivetrain: 150-hp, turbocharged 1.4-liter four-cylinder gas engine and a 27-hp electric motor with a seven-speed dual-clutch automatic transmission; front-wheel drive
Hits dealerships: Late 2012
A longtime proponent of diesel engines as a way to save fuel, Volkswagen has also begun appealing to consumers' green sensibilities with hybrids, first the Touareg Hybrid SUV and now the Jetta Hybrid compact sedan. Available at dealerships toward the end of this year, the 2013 Jetta Hybrid will get an estimated combined gas-mileage rating of 45 mpg, Volkswagen says. That's 1 mpg higher than the 2012 Honda Civic Hybrid. With the base 2.0-liter four-cylinder and an automatic transmission, the regular gas Jetta gets combined gas mileage of 25 mpg.
More 2012 Detroit Auto Show Coverage
In a break from other hybrid cars currently available in the U.S., the Jetta Hybrid has a turbocharged 1.4-liter four-cylinder gas engine that makes 150 horsepower. Most hybrids have a normally aspirated engine. The four-cylinder works with a 27-hp electric motor. With this powertrain, the Jetta Hybrid can accelerate from zero to 60 mph in less than 9 seconds, according to Volkswagen, and drive at speeds up to 44 mph on electric power alone. The electric motor is powered by a 1.1-kilowatt-hour lithium-ion battery pack behind the rear seat.
The Jetta Hybrid's transmission is different from most hybrids', too. It's a seven-speed dual-clutch automatic, which is a transmission design Volkswagen uses in some of its other cars, including the GTI, as opposed to the more common continuously variable automatic transmission. Moving the Jetta Hybrid's gear selector to the S position provides greater drivetrain responsiveness.
Unique exterior styling cues are relatively minimal, with the biggest changes at the front of the car. There's a new grille, and the headlights can be accented with available LED daytime running lights. The sedan also has 15-inch low-rolling-resistance tires and a small rear spoiler for better aerodynamics.
Inside, a multifunction screen in the instrument panel shows hybrid system information. A power gauge takes the place of the tachometer, providing another way to visualize the system's operation. Plus, a "zero emissions" menu in the stereo uses bars to show what percentage of the last minute was spent without engine emissions. It can track this for up to 30 minutes.
Safety features — such as antilock brakes, electronic stability system, side-impact airbags for the front seats and side curtain airbags — are standard. Available features include a power driver's seat, heated front seats, a navigation system, a backup camera and Fender premium audio.