Factory-Customized Chrysler 300 Headed to 2012 Chicago Auto Show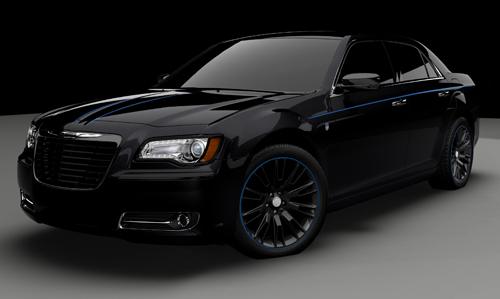 A highly customized Chrysler 300 sedan — designed and engineered by Mopar to achieve better acceleration times than the regular 300C — will be unveiled at the 2012 Chicago Auto Show in early February.
The factory-built model, called the Mopar '12 300, will offer the same styling enhancements as the Chrysler 300S but with additional performance enhancements.
Additions include a boosted final-drive ratio on the rear differential, which helps to increase acceleration times to the low-five-second mark. It's still slower than the 300 SRT8 version, but presumably this model goes after a different demographic. The Mopar '12 300 features 42% stiffer front and 23% stiffer rear spring rates compared to a regular 300, and it also comes with high-performance all-season tires and beefed-up brake linings for better stopping power.
New exterior styling details include a black coat of paint with blue stripping on the wheels, the beltline and hood. A matching black leather interior with blue stitching highlights the cabin. Twenty-inch wheels and 75th anniversary Mopar decals are also included.
The model is a factory-built option and will go on sale this summer with a starting price of $48,875, excluding an $825 destination fee. Only 500 of the Mopar '12 300 will be built, according to Chrysler.
Mopar also released three other crate accessory kits for the Dodge Dart, Jeep Compass and Fiat 500. These have to be installed by your local Chrysler dealership. The accessory kits go on sale this fall.